Scottish independence: B&Q to 'pause investment' after Yes vote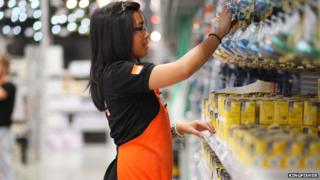 The boss of the company that owns B&Q has said investment would "pause" in Scotland following a "Yes" vote.
Kingfisher chief executive Sir Ian Cheshire said uncertainties around currency and EU membership would put "everything into hibernation".
But he said the company would trade in Scotland regardless of the result of the referendum.
The pro-independence Business for Scotland group welcomed confirmation that the firm would stay in Scotland.
Sir Ian, who employs 2,600 people in Scotland in B&Q stores and another 400 in its Screwfix shops, said the "trading environment" of an independent Scotland would influence his company's approach.
He added that plans for 23 new Screwfix shops had already been put on hold.
"It [independence] would put a pause on everything," said Sir Ian during a visit to a B&Q store in Port Glasgow with Scottish Labour leader Johann Lamont, who opposes independence.
He added: "If we have differences on VAT, currency, it just puts everything into hibernation as we try to figure out what it will mean.
"Because Scotland is such an important part of B&Q, there's no way we're going to let it go, but it would be more complicated, probably more costly and less likely to attract investment, given we could invest in 11 other countries around the world."
He stressed the company would continue to trade in Scotland regardless of the outcome of September's referendum.
'Scare stories'
Sir Ian added: "Some claimed Scotland couldn't possibly survive on its own as an independent state, which is clearly ridiculous - of course it can be.
"There are equally some scare stories on the other side."
Tony Banks, chairman of Business for Scotland, said: "We welcome Sir Ian's confirmation that his companies and associated jobs will remain in Scotland after a 'Yes' vote. Inward investment is of course at a record high and Scotland's economy is out performing the rest of the UK in the lead up to the referendum.
"Sir Ian has quite rightly dismissed as ridiculous the scaremongering of the No campaign that Scotland could not survive as an independent country."
He said Business for Scotland, which has set a target of convincing 250,000 businesspeople to vote for independence, would seek to meet Sir Ian to "clarify some misconceptions about independence".
A Scottish government spokesman also welcomed B&Q's commitment to continue operating in Scotland "whatever the country's constitutional future".
He added: "As the company point out, they already operate across 11 different independent countries.
"Scotland is an immensely wealthy and productive country and our economy continues to flourish, making this country one of the best places to do business, but with the powers of independence we can do much more."
'There to stay'
However, Labour MP Anne McGuire said: "This is a big intervention from one of Scotland's largest employers.
"As part of the UK employers in Scotland have access to a single market of more than 63 million people, compared to just five million.
"This is good for firms in Scotland and is good for jobs. Why would we want to put that at risk by putting up a barrier between employers and their customers elsewhere in the UK?"
Meanwhile Diageo, which owns many leading Scotch whisky brands, said the firm was "there [in Scotland] to stay".
Chief executive Ivan Menezes said the decision on independence was for "the people of Scotland to make" adding that remaining part of the European Union (EU) was "extremely important" for the company and the industry.
He said the firm, which owns brands including Johnnie Walker, J&B, Talisker and Lagavulin, had spoken to both sides of the debate.
Mr Menezes added: "We're being very proactive in ensuring the health of this industry is protected. Unlike other businesses, we cannot pick up and leave Scotland. We're there to stay."