Scottish independence: Gordon Brown wants pro-Union parties power plan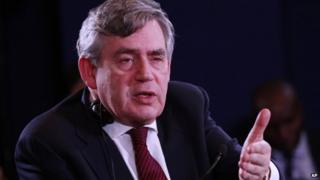 Former prime minister Gordon Brown says he will work with other parties ahead of the referendum to produce a deal on more Holyrood powers.
He told the BBC there was a need for agreement in order to help voters reject independence at the ballot box.
Labour, the Conservatives and the Liberal Democrats have each drawn up separate proposals for further devolution in the event of a "No" vote.
The SNP said only a "Yes" vote would deliver the powers Scotland needed.
The Liberal Democrats said the Labour MP's comments were in line with their thinking, but the Tories are understood to be more cautious.
The Nationalists believe only independence would give the Scottish Parliament the powers to grow the Scottish economy and share wealth more fairly.
Mr Brown's statement comes as Scottish Labour staged a rally and special launch to keep Scotland a part of the UK.
He joined Johann Lamont, Scottish Labour leader, at the event.
Ahead of the launch, Ms Lamont said: "In just over 100 days, the people of this country will come together to decide our future and we believe it is in Scotland's interests to continue working in partnership with our neighbours.
"Scotland is already a nation with a strong parliament which has power over the things that really matter to people like schools, hospitals and jobs.
"But we believe it makes sense to share other things as part of a bigger country of 60 million rather than just five, giving us the economic certainty and security we would want."
She added that it was in Scotland's interests to "continue working in partnership with our neighbours."
'Harmful policies'
However, former Scottish Labour chairman, Bob Thomson, said Scottish independence would benefit both Scotland and the rest of the UK.
He added: "Instead of being on the receiving end of Tory governments Scotland didn't vote for, a rebalancing of economic power in these islands away from the over-dominance of London - and an independent Scotland delivering a progressive policy programme - would be of benefit both north and south of the border.
"Labour voters also seeing that the powers offered by the 'No' campaign parties don't go far enough in being able to transform Holyrood from a parliament able to mitigate harmful UK government policies to one that can create a fairer, prosperous and more just society."
Scotland 2014 - What's on
Broadcaster Sarah Smith will be quizzing pro-Union backer, Labour MP Douglas Alexander, and independence-backer, Deputy First Minister Nicola Sturgeon later. You can watch Scotland 2014 live on BBC Two Scotland at 22:30. It's also available to view on the BBC news website. And if you miss it you can catch up on the BBC iPlayer.