Scottish independence: Rivals respond to Queen's speech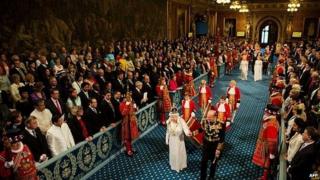 The Queen has re-affirmed the UK government's commitment to keeping Scotland in the Union, as she opened parliament at Westminster.
Her Majesty said UK ministers would continue to "make the case for Scotland to remain part of the United Kingdom".
The Queen's speech outlined the coalition's final legislative plans ahead of the next UK election.
It also came ahead of the 18 September independence referendum.
The Queen's speech came as rival politicians set out their visions for Scotland's future.
The SNP's Westminster spokesman Angus Robertson pointed out that the Queen did not mention any new powers for the Scottish Parliament.
But Scottish Secretary Alistair Carmichael said nine of the 11 bills contained in the speech would apply in Scotland.
During her speech at parliament, the Queen said: "My government will continue to implement new powers for the Scottish Parliament and make the case for Scotland to remain a part of the United Kingdom."
The Scottish government responded by saying it would continue to make the case for an independent Scotland, "with Her Majesty as head of state".
Mr Carmichael insisted the UK government was "building on strong foundations for a prosperous and exciting future in Scotland".
He added: "This legislation will help improve the lives of people across the country and lend a helping hand to working families and the businesses at the heart of our economy.
"At the same time we will further support the North Sea industry and give Scotland's pensioners security and flexibility over their retirement funds. It is a comprehensive package for Scotland and I welcome the positive changes it will bring."
'Obsessed with referendum'
Labour's Shadow Scottish Secretary Margaret Curran said Scotland was being let down by both the UK and Scottish governments.
Ms Curran said: "We have an SNP Scottish government that is so obsessed with the referendum that they aren't doing anything else, and a Tory-led UK government that has run out of ideas."
But Mr Robertson said: "The absence of any mention at all of the Westminster parties' plans for Scotland in the Queen's speech is extraordinary.
"Not even Air Passenger Duty was mentioned, even though this could be transferred to the Scottish Parliament now, as the Tories admitted this week.
"In this - the year of the biggest opportunity in Scotland's history - Scotland hardly even gets a nod at Westminster, and not a single mention of future plans for improving government in Scotland."
Scottish Greens co-convener Patrick Harvie called on the Scottish government to oppose proposals outlined in the Queen's speech which would allow fracking companies the right to run pipelines under private land.
Mr Harvie said: "The coalition government is turning a blind eye to the risks to our economy, not just our environment, of encouraging yet more fossil fuel extraction."