Scottish independence: Carl Bildt says Yes vote 'profound' for UK and EU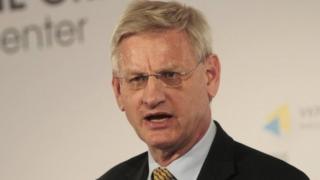 The Swedish foreign minister has said he believes Scottish independence could have "profound implications" for the the rest of Europe.
Carl Bildt told the FT newspaper he believed the "Balkanisation of the British Isles" could set off "unforeseen chain reactions".
He predicted the rest of the UK would need to renegotiate some of its own terms of membership of the EU.
And he said the prospect of the UK leaving the EU would be a "disaster".
Prime Minister David Cameron proposes holding a referendum on the UK's membership of the EU by 2017.
The FT quoted Mr Bildt as saying: "I think it (independence) is going to have more profound implications than people think.
'Global clout'
"The Balkanisation of the British Isles is something we are not looking forward to. It opens up a lot, primarily in Scotland but also in the UK.
"What are the implications for the Irish question? What happens in Ulster?"
He said that he assumed the remainder of the UK would have to renegotiate the number of votes it holds in EU decision making.
And he warned the UK risked being seen as an "island adrift in the Atlantic" if it voted to leave the EU in an in-out referendum.
He said the EU would lose a "significant element of global clout" without the UK, but withdrawing from the EU would be an "even bigger disaster for the UK".
Mr Bildt, a member of the centre-right Moderate Party, is a former Swedish prime minister and was the UN's special envoy to the Balkans between 1999 and 2001.
'Constructive voice'
Responding to Mr Bildt's remarks, a spokesman for the Scottish government said: "These comments do not reflect the reality of Scotland's referendum process, which is a model of democracy and of how such processes should be conducted - and which has been cited as such internationally, including by the US Secretary of State.
"An independent Scotland will play our full part in the international community, bringing a peaceful, progressive and constructive voice to global affairs."
Scottish Conservative deputy leader Jackson Carlaw said: "Having held Scandinavia up as a beacon of hope, Alex Salmond must feel like a schoolboy who finds the sweetheart of his dreams has just revealed she doesn't find him attractive.
"No doubt this intervention will be dismissed by the Scottish government as Nordic scaremongering. But beyond the SNP's ego being bruised, this is yet another serious point being made by someone with no axe to grind."