Scottish independence: Parties demand 'Yes' cost release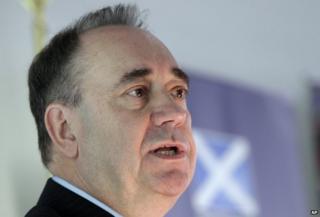 Scotland's main opposition parties have jointly called on First Minister Alex Salmond to publish the cost of setting up an independent Scottish state.
They said voters needed the figure to make an informed choice, ahead of the 18 September independence referendum.
A spokesman for the first minister said much of the infrastructure for an independent Scotland "already exists".
And he said the letter was an attempt to divert attention from "misleading" UK government figures on the issue.
A letter to Mr Salmond, signed by Johann Lamont, Ruth Davidson and Willie Rennie - the respective Labour, Conservative and Liberal Democrat leaders - claimed it was now known that Finance Secretary John Swinney agreed in 2012 to produce a report on the issue.
It added that, last week, a spokesman for the first minister said the figure had not been calculated and that no such estimate would be given.
"It is simply unthinkable that a government would pursue such a radical and irreversible policy such as independence without first undertaking any modelling work or providing any estimates for the cost of that change," stated the letter from the three politicians.
"There are now little more than 100 days until the people of Scotland go to the polls. We now urge you to publish this important information without further delay.
"Without it, voters will not be in position to make an informed choice when they go to the polls in September."
Mr Salmond previously rubbished UK Treasury analysis putting the start-up cost at £1.5bn - a figure the Treasury said could be twice as much, if based on a different study by Prof Patrick Dunleavy, of the London School of Economics.
Prof Dunleavy later accused UK ministers of a "ludicrous" use of his research, prompting Mr Salmond to say the case for the figure had been "destroyed".
The academic later estimated the Scottish cost could be between £150m and £200m - a suggestion the first minister said was reasonable.
A spokesman for the first minister said of the opposition letter: "This is a blatant attempt to divert attention from the fact the UK Treasury were last week caught red handed trying to cook the books on an independent Scotland's finances - that was a deeply dishonest attempt to mislead people, for which they should now apologise and withdraw their bogus figures.
"The question the Westminster parties now need to answer is how much they plan to slash Scotland's budget by in the event of a 'No vote' - what are their secret plans to cut Scotland's cash and will they be straight with the people of Scotland before the referendum?"
The spokesman added: "Much of the infrastructure for an independent Scotland already exists, and we already pay our fair share of running costs for all services.
"We are also entitled to a fair share of all UK assets."