Scottish independence: John Reid calls patriotism claim 'insulting'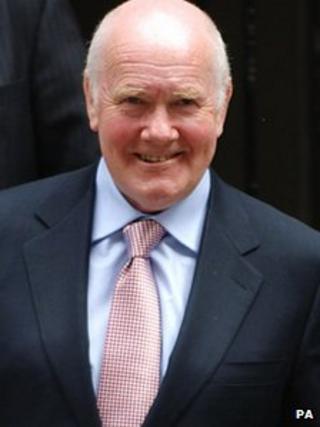 Former Labour minister John Reid has told a rally in Stirling that no one side in the independence referendum debate has a "monopoly on patriotism".
He told the Better Together meeting that the accusation a No vote is unpatriotic was "insulting to the vast majority of the Scottish people".
Mr Reid said voting No on 18 September would protect Scotland and Scots.
Yes campaigner Dennis Canavan said the independence vote was more about promoting prosperity than patriotism.
Lord Reid, who was secretary of state for Scotland under Tony Blair, told the gathering at the city's Smith Museum: "The measure of your commitment to Scotland isn't about flag-waving or how many tweets you send.
"It's about acting in the best interests of your country. And I believe that a No vote is in the best interests of Scotland."
He added: "No one campaign has a monopoly on patriotism. The accusation that to vote No is unpatriotic is insulting to the vast majority of the Scottish people.
"So, let me make it clear - a vote for Scotland to stay in the UK is a vote to protect Scotland and the welfare of Scottish people.
"The Nationalists are asking us to take an enormous risk. They are asking Scots to risk the pound, their pensions and investment in public services. It is a risk that we don't have to take."
'Best interests'
Dennis Canavan, chairman of the Yes Scotland advisory board, said: "I agree with Lord Reid that this is not about flag-waving but it is about acting in the best interests of Scotland.
"We do not claim that voting No is unpatriotic but we firmly believe that voting Yes will ensure a better future for the people of Scotland.
"Lord Reid and his unionist cronies in the House of Lords have had their chance.
"They are yesterday's men but voting Yes gives us a once-in-a lifetime opportunity to build a more prosperous and a fairer Scotland with higher standards of social justice."