Scottish independence: Alex Salmond dismisses more powers pledges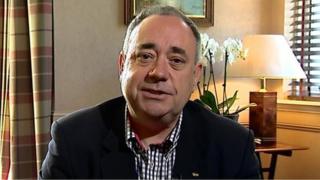 Alex Salmond has said it would be "very foolish" to rely on promises of more powers for the devolved Scottish Parliament ahead of the referendum.
The three main pro-union parties have all said they would give Holyrood new tax-raising powers if voters reject independence.
But the Scottish first minister said the parties had "form" in making promises which they later broke.
He also downplayed President Barack Obama's intervention in the debate.
And Mr Salmond reiterated his belief that the referendum was a "once in a political generation" event.
Speaking on the BBC's Andrew Marr Show, the first minister said the only way to guarantee greater powers for Holyrood was to vote "Yes" in the referendum on 18 September, when voters will be asked the Yes/No question: "Should Scotland be an independent country?"
He added: "I think the only guarantee of getting more powers is to vote Yes on 18 September. Anything else is in the grace and favour of the unionist parties, and they have got form in these sort of things."
Mr Salmond pointed to the 1979 devolution referendum, when Scots voted in favour of a Scottish Assembly but instead got what Mr Salmond described as "18 years of Margaret Thatcher's government".
He added: "Having had that experience, we would be very foolish to rely on promises from unionist parties and far better to take the matter into our own hands on 18 September.
"We shouldn't rely on pre-referendum promises by parties which are under pressure. They are under pressure because we have that referendum date, we have the ability of 18 September to take the decision for ourselves, and I think it would be wise for us to do so.
"There is no doubt the Scottish Parliament has, since 1999, accumulated substantially more power and that has been a good thing for Scotland, and I think you complete that process by having an independent parliament.
"You might actually argue that we have had a 100-year process of power being devolved to Scotland, and perhaps in the next 100 days we can complete that journey."
On Thursday, Barack Obama gave his backing to the UK remaining a "strong, robust, united and effective partner" in what was widely interpreted as the US president cautioning against independence.
Mr Salmond said he had been "surprised" by the president's comments, given that the US government had previously said it would remain neutral in the independence debate.
He added: "David Cameron has been begging everyone internationally to say anything to help him in his travails at the present moment. He is right to be worried, incidentally, as the latest Yes poll is at 46%.
"So perhaps in the Richter scale of presidential interventions this was pretty mild."
Nuclear weapons
Newspaper reports have speculated that the US would attempt to block an independent Scotland's membership of Nato if the Scottish government attempted to carry out its pledge of ridding the country of Trident nuclear weapons.
Mr Salmond said: "If the rest of the UK wants to maintain a nuclear capability then they can do so. I think they would be very unwise to do so, incidentally, but it wouldn't be realistic to have nuclear weapons stationed in Scotland after Scottish independence.
"We are not saying they have to be removed the day after - the White Paper suggested the first term of a Scottish Parliament."
When asked by Andrew Marr whether he would "stay on" in the event of a "No" vote, Mr Salmond said he would "continue to serve the people of Scotland in whatever capacity they choose for me to do so" whatever the result of the referendum.
He added it was his view that "referendums on the constitution are once in a political generation", which was why it was so important that people should "grasp the opportunity with both hands".
Former Chancellor Alistair Darling, who heads the pro-union Better Together campaign, said: "We believe that the brightest and best future for Scotland is to remain in the UK. The nationalists are asking us to take risks that we simply don't need to.
"The choice being offered to people in Scotland is clear. We can take a leap into the dark with separation, putting our pound, pensions and public services at risk; or we can have the best of both worlds for Scotland as part of the UK.
"We can have a strong Scottish Parliament, with the guarantee of more powers, backed up by the strength, security and stability of being part of the larger UK. That's the choice on the ballot paper this September."
Meanwhile, the most senior civil servant at the Treasury has been quoted by the Sunday Post newspaper as saying an independent Scotland would "still be a prosperous economy".
But Sir Nicholas Macpherson also reiterated his previous warnings about the dangers of a currency union between an independent Scotland and the rest of the UK, saying: "A small country in a currency zone when things go wrong isn't a happy place to be".
In February, Sir Nicholas made his civil service advice on a currency union public. It was seen as an unusual step as such advice is normally kept private.
Chancellor George Osborne cited Sir Nicholas's advice when he ruled out a currency union, a position backed by Labour shadow chancellor Ed Balls and the Lib Dem Chief Secretary to the Treasury, Danny Alexander.