Scottish independence: Better Together campaign adopts 'No Thanks' slogan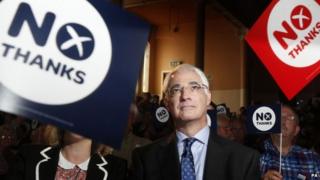 The slogan being used by the campaign to keep Scotland in the Union is being changed, ahead of the 18 September independence referendum.
"Better Together" will be superseded with "No Thanks" in campaign publicity, the BBC understands.
However, Better Together will remain the formal name of the campaign.
The change emerged on the day several Scottish Labour MPs expressed anger at comments made by former PM Gordon Brown on the independence debate.
The Fife MP said on Monday it would be a "good idea" for the current prime minister, David Cameron, to go head-to-head with Alex Salmond on TV, ahead of the vote.
Mr Cameron has said any TV debate should be between Mr Salmond and Better Together leader Alistair Darling.
The cross-party Better Together campaign was set up in 2012 to campaign for a "No" vote.
BBC political correspondent Iain Watson said: "The phrase was intended to sound positive, but there have been fears that in the run up to the referendum it wasn't particularly meaningful for voters and that the word 'no' would have to be deployed after all.
"Following extensive discussions in focus groups, this was softened to 'No Thanks.'
"While Better Together will remain the formal name of the campaign, the phrase itself will be replaced on all publicity - right down to campaigners' lapel badges."
'Unhelpful comment'
On Monday, Mr Brown told journalists at a Westminster lunch: "I think it would be a good idea if David Cameron did debate Alex Salmond, but I'm not involved in the negotiations."
BBC Scotland Westminster correspondent David Porter said some Scottish MPs had described Mr Brown's comments as ''unhelpful'' and ''irrational'' and that, privately, figures within the pro-Union Better Together Campaign were known to be extremely annoyed by the former PM's views.
ANALYSIS - BBC Scotland Westminster correspondent David Porter
Gordon Brown seems to have succeeded in ruffling more than a few feathers among his Scottish party colleagues.
Some of the responses to his call for David Cameron and Alex Salmond to take part in a TV debate together on independence are un-broadcastable, but among the more temperate reactions are that they were ''unhelpful"," irrational" and, at the very least, a " distraction".
Mr Brown's comments have been seized on by the pro-independence campaign, but Downing Street remains resolute that such a debate will not happen, saying it should be between Scots in the "Yes" and "No" camps.
Privately, figures within the Better Together Campaign are known to be extremely annoyed by Mr Brown's intervention, with less than 100 days until the referendum.
Former Scottish secretary Jim Murphy spoke publicly about the issue, saying he did not agree with his former leader.
The Labour MP for East Renfrewshire and shadow international development secretary, explained: "Gordon's a remarkable campaigner and has great strengths, but I just don't agree with him.
"It's not negative to ask. How would that work? There's nothing un-Scottish about asking why."
Asked whether Mr Cameron would agree to debate the first minister in light of Mr Brown's comments, the prime minister's official spokesman, said: "The Better Together campaign have said that what should come about is Alex Salmond accepting Alistair Darling's invitation to debate, and that's very much the PM's view too."
Mr Brown also used the journalists' event to criticise the way Scots had been warned they would not be allowed to share the pound in the event of a "Yes" vote.
And he hit out at "patronising" government publicity material suggesting people in Scotland would be able to buy fish and chips every day for 10 weeks with the money they save by voting against independence.
Meanwhile, Conservative Jacob Rees Mogg said some of the messages coming from Westminster in the campaign to keep Scotland in the UK were "too negative".
The North East Somerset MP told BBC Radio Bristol: "England really needs Scotland. Basically we are intermarried, inter-related, we are so strongly connected that the English love Scotland and we therefore want her to stay.
"And I think the message sometimes from the Westminster bubble has been rather negative."
Asked if Mr Cameron could remain prime minister in the event of a referendum "Yes" vote, Mr Rees Mogg replied: "Yes, he can. I think he would be safe.
"It would not be seen as his personal failure if that happened. It would be questions for the 'No' campaign to answer."
SNP MSP Linda Fabiani said: "The 'No' campaign seem to have entered the last hundred days before the referendum disorientated and divided - without knowing its name and split on issues such as whether there should be a first minister to prime minister debate.
"Scotland is one of the wealthiest nations on earth - more prosperous than the UK, France or Japan - but we need the powers of independence to make our wealth work for all the people.
"That is why we are confident most people in Scotland will say Yes please on 18 September."