Scottish independence: Alex Salmond 'will stand again for first minister'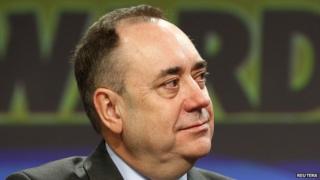 Alex Salmond has said he intends to stand again for first minister regardless of the outcome of the forthcoming referendum.
Speaking in a newspaper interview, Mr Salmond said he would put himself forward for the job "whatever the political circumstances".
The first minister added that it was "for the people of Scotland to decide".
The referendum on Scottish independence takes place on 18 September.
Mr Salmond, who has been first minister since 2007, had previously said he hoped to serve a full term if he was elected to lead the first independent Scottish Parliament.
However, there had been speculation that he may not stand again should Scotland vote "No" in the referendum.
The next Holyrood election is due to take place in May 2016.
'Available'
Asked about his intentions in an interview with the Daily Record, Mr Salmond said: "I intend to stand again in 2016.
"Whatever the political circumstances, there will be an election in 2016 and the people will choose the first minister.
"I hope to be a candidate in an independent Scotland and I believe I will be a candidate in an independent Scotland.
Mr Salmond added: "It will be for the people of Scotland to decide in any circumstances whether I will be first minister.
"But I am available to discharge the duties of first minister if that is what the people want."
Last month, Prime Minister David Cameron signalled he would not quit his position if Scotland voted for independence.
He told the BBC: "It's not about my future, it's about Scotland's future."
Conservative MSP Jackson Carlaw said Scotland would need "fresh leadership" following the referendum.
He added: "If there is a 'No' vote in September, the first minister and his deputy must submit themselves to a vote of confidence in the Scottish Parliament without delay.
"Having parked the business of running the country for more than two years and having argued that independence is their only policy option, the people of Scotland will see through any attempt to grandstand and cling to office.
Labour MSP Paul Martin said: "If Scotland votes 'No', the job of all politicians will be to unite behind the decision and get on with making the best of our country - it's hard to see where Alex Salmond's politics of division and grievance fit in that new Scotland."