Scottish independence: Campaigners condemn online abuse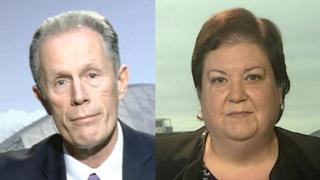 Labour MSP Jackie Baillie and Yes Scotland chief executive Blair Jenkins have condemned online abuse in Scotland's referendum campaign.
Ms Baillie, who supports the Union, said the debate had reached a "new low" after author JK Rowling and campaigner Clare Lally were abused on Twitter.
Mr Jenkins, who backs Scottish independence, said such abuse was "completely unacceptable".
They were speaking to the BBC's Sunday Politics programme.
Harry Potter author Ms Rowling was described as a "bitch" and Ms Lally a "liar, a quisling and a collaborator" on Twitter after both gave their support to the pro-UK Better Together campaign.
Meanwhile, Better Together leader Alistair Darling compared First Minister Alex Salmond to former North Korean dictator Kim Jong-il in a recent New Statesman interview.
Ms Baillie, who supports Better Together, said: "I think we've reached a new low this week."
She added: "What we've seen is the most abusive, vitriolic, vile attacks, particularly against two women."
Ms Baillie claimed "there are more from the 'Yes' campaign than the 'No' side, though we should always be condemning attacks".
'Good temper'
Mr Jenkins condemned online abuse and said Mr Salmond had "often" done the same.
He argued that most discussions in the independence debate were "characterised by good temper [and] good humour" and added: "We're having a fantastic, decent and democratic debate here in Scotland."
He argued: "Yes Scotland is running a thoroughly positive campaign, much more positive than Better Together."
When presenter Andrew Neil raised Mr Darling's comments about Mr Salmond, Ms Baillie said: "We do need to elevate the debate."
Ms Baillie and Mr Jenkins were also asked whether they were supporting England in the World Cup.
Mr Jenkins confessed that he had not watched England's first game against Italy but said he would be "delighted to see England do well".
Ms Baillie said: "I was supporting England".