Scots council tax collection at 95%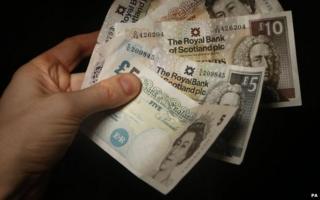 Council tax collection rates in Scotland in the last year came in at 95%, generating more than £2bn to fund local services.
Collection rates across the 32 local authorities for 2013-14 ranged from 92.7% to 97.8%, according to official, government-published figures.
There has been a steady improvement in collection rates since the Scottish Parliament was established.
The SNP froze council tax levels after it came to power in 2007.
The official 2013-14 figures said:
In Scotland, the total amount of council tax billed was £2.040bn, of which £1.942bn was collected by 31 March 2014.
This gave a provisional in-year collection rate of 95.2% - the same rate as the audited figure from the previous year.
Collection rates across the 32 councils ranged from 92.7% to 97.8%.
Collection rates have improved steadily from 1998-99, when the figure was 87.2%.
Analysis by Jamie McIvor, BBC Scotland local government correspondent
The council tax collection rate has improved substantially in recent years - but further significant improvements will be hard.
In 1996 the collection rate in Glasgow was just 73%. As recently as 2003, it was 85%. Now at 93.9% it is only slightly below the national average and in line with many other authorities.
One reason for the improvement may be improvements in collection methods, such as direct debits, and other efforts to try to make it easier to pay - for instance a choice over whether to pay over 10 or 12 months each year.
Another may be that politically-motivated non-payment associated with protests against the poll tax - a legacy which impacted on collection rates for some time - may have all-but died out.
With pressure on local authority finances continuing, maximising the payment rate is more important than ever.
The lowest collection rate is in Dundee - 92.7% - and the highest is in Stirling - 97.7%.
As a general rule, the more rural or more prosperous an area is the higher the collection rate.
But in urban areas, a greater proportion of the population may be transient or short-term - adding to the difficulties collecting council tax.
Councils are always keen to stress that anyone who falls into genuine council tax arrears should not be afraid to speak to them. They say they would always try to help arrange a programme to help clear the debt and would not act against someone in hardship who was trying to clear their arrears.