Scottish independence: Chinese premier calls for a 'united' UK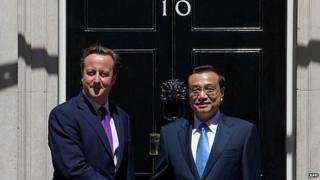 Chinese premier Li Keqiang said he wanted to see a "united United Kingdom" when questioned on Scotland's independence referendum.
Mr Li made the comment at a joint press conference with UK Prime Minister David Cameron in Westminster.
But he added that China would "respect the choice you make".
First Minister Alex Salmond said he looked forward to "global focus remaining on Scotland" following a "Yes" vote in September.
Mr Cameron said the UK's relationship with China is "gaining in strength, depth and understanding" after talks with Mr Li.
The two men held talks in Downing Street during the Chinese premier's three-day visit to the UK.
Mr Li told reporters he wanted a "strong, prosperous and united United Kingdom".
He added: "I believe that the United Kingdom can stay at the forefront in leading the world's growth and development and also continue to play an important and even bigger role for regional stability and global peace."
Earlier this month US president Barack Obama called for the UK to remain a "strong, robust, united and effective partner" for the US.
Speaking alongside Mr Cameron at a media conference following the G7 summit, the US president said the referendum decision was "up to the people of Scotland".
First Minister Alex Salmond said: "Premier Li is of course entitled to his views, and it is noteworthy that he made clear the Chinese Government will 'respect the choice' which the people of Scotland make this September whatever it may be.
"Scotland's international profile has never been higher as we approach the referendum - and the Scottish government looks forward to that global focus remaining on Scotland following a vote for independence and all the exciting opportunities which that will bring for our relations with the wider world."