Scottish Parliament welcomes 'Buckfast Bees'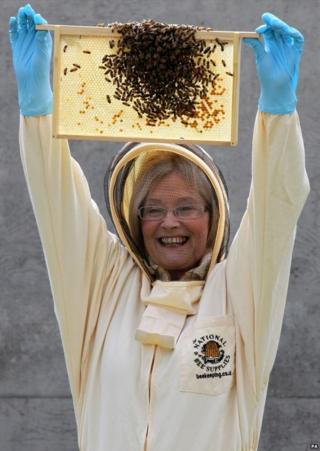 The Scottish Parliament has welcomed its own batch of honey bees.
The Buckfast Bees - which take their name from the abbey where the tonic wine is made - are being housed in Holyrood's own hives.
The variety is known for its calm temperament and productivity and it is hoped the parliament will soon produce its first batch of honey.
Holyrood's Presiding Officer Tricia Marwick said there had been a "buzz" about the new arrivals.
The Scottish Parliament became the first UK legislature to get its own beehives, after they were installed earlier this year, and the bees are now ready for their new homes.
Ms Marwick, said: "The Scottish Parliament has welcomed many guests and visitors but there has been a special buzz around the bees.
"Since we announced we would become the first parliament in the UK to have its own beehives, the enthusiasm and level of interest from members, staff and visitors has been astonishing.
"We are looking forward to trying the first batch of honey which will hopefully be ready later this year."
Paul Holmes, chair of Kelvin Valley Honey, which will manage and maintain the Holyrood bees, said: "This is a wonderful opportunity for Scotland's law makers to observe at first hand the work of these amazing insects and the vital contributions that they make to our everyday lives, the environment and Scotland's economy.
"Having honey bees at its heart not only benefits the parliament but, through increased levels of pollination, also benefits the wider Edinburgh environment, most especially the city's green spaces, parks and gardens by as much as two-and-a-half miles around it."
He said of the particular variety coming to the parliament: "People may well think the association is quite funny but it is a great variety.
"The bees are calm, acclimatized to the Scottish climate and are prolific honey producers and will be a very welcome addition at Holyrood."
The Buckfast drink is produced on behalf of the Benedictine monks of Buckfast Abbey in Devon, which also has a long history of beekeeping.