Scottish independence: 'No Nato talks' over referendum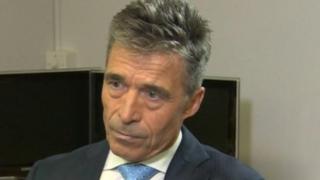 The head of Nato has said the alliance has not discussed the possibility of a "Yes" vote in Scotland's independence referendum.
On a visit to London, Anders Fogh Rasmussen refused to be drawn on his view on the referendum.
The secretary general said he was not willing to "interfere with domestic British politics."
He said the decision on independence was one for the people of Scotland to take.
The Scottish government has pledged to remove the UK's nuclear weapons from Scotland in the event of independence, and wants to join Nato as a non-nuclear member.
There has been newspaper speculation that the US might attempt to block an independent Scotland's membership of the military and defence alliance if it removed Trident.
During an interview for the BBC's Sunday Politics Wales programme, Mr Rasmussen was asked whether he had any opinion on the referendum, which will be held on 18 September.
The former Danish prime minister replied: "No, I am definitely not going to interfere with the domestic British politics. It is a hypothetical situation and we haven't discussed it.
"If the Scottish people were to decide on independence, and if an independent Scotland were to apply for membership of Nato, that would be addressed exactly like applications from other nations."
Mr Rasmussen was asked whether he believed it would be difficult for an independent Scotland to join Nato, given the SNP administration's opposition to nuclear weapons in Scottish waters.
He responded: "It's difficult to make any assessment of that because it is a hypothetical question and we haven't discussed it in Nato for that same reason.
"It is for the Scottish people to decide. Let's await the outcome of the referendum."
He said the issue of Scottish independence would not be discussed at the upcoming Nato summit in Newport, in south Wales.