Scottish independence: Electoral Commission probes Lord Reid advert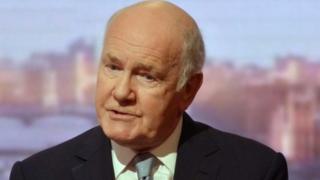 The Electoral Commission is investigating whether a referendum advert signed by Lord Reid broke the law.
The advert, which appeared in the Scottish Catholic Observer, featured the former Labour home secretary urging people to reject independence.
But the advert was said to have failed to contain an imprint stating who had promoted it.
The imprint is required to appear on all referendum adverts.
The Electoral Commission confirmed it had received a complaint about the advert, which was being looked into.
A spokeswoman said: "I can confirm that we have received a complaint regarding an alleged breach of the referendum rules on imprints.
"We are now considering the complaint and are unable to comment any further while the matter remains under consideration."
Ensure transparency
The full-page advert featured a photograph of Lord Reid alongside a statement in which he encouraged readers to vote "No" in September's independence referendum.
The statement was signed: "John Reid, former Labour Cabinet Minister and former chairman of Celtic FC".
In its guidelines for the referendum campaign, the commission defines the "promoter" of an advert as the "person who has authorised the material to be printed".
It says an imprint must be added to campaign material to show who is responsible for its production, and to help ensure there is transparency about who is campaigning in the referendum.
The guidelines go on to say: "If it is in a newspaper or periodical, the name and address of the printer of the newspaper or periodical must appear on its first or last page, and the name and address of the promoter (and of any person on whose behalf the material is being published, if not the promoter) must appear in the advertisement."