Scottish independence: Plans announced for Scotland's 'biggest ever debate'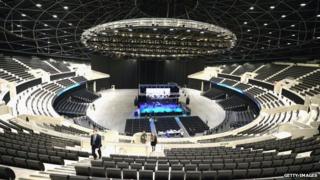 BBC Scotland is to host the biggest debate the country has ever seen in the week before the independence referendum.
Up to 12,000 first time voters from across Scotland will fill Glasgow's SSE Hydro for a BBC One televised debate on independence.
The 11 September debate will give 16 and 17-year-olds the opportunity to air their views and question politicians.
Every secondary school in Scotland will be invited to take part.
The programme will be broadcast across the UK on BBC One, a week before Scotland makes one of the most important decisions in its history.
The BBC will contact both campaigns to discuss the appropriate representative from each side to appear on the show.
John Boothman, BBC Scotland's Head of News and Current Affairs, said: "This will be the biggest political debate that has ever been televised in Scotland.
"We are proud to bring the nation's young people together to hear the arguments that will determine the future of the country."
Are you a first-time voter with a burning referendum question? Ask away, and see what others have asked, on 'Referend-erm?'