Scottish independence: Conservative MSP calls for a federal UK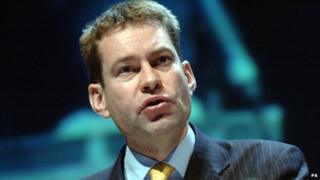 Conservative MSP Murdo Fraser is expected to call for a federal UK in a speech at Glasgow University.
Mr Fraser will say that a federal option could create "common ground" between supporters and opponents of Scottish independence.
His proposals include a written constitution and replacing the House of Lords with a senate to represent the federated areas of the UK.
SNP MSP Stuart McMillan called the proposals "pie in the sky".
He said the changes Mr Fraser was advocating were "simply not on the table" and the "No" campaign parties had "completely failed to reach any common position on more powers for Scotland".
Mr Fraser, the Scottish Conservatives' spokesman on enterprise, energy and tourism and a former deputy leader of the party, will give a lecture organised by the think tank Reform Scotland.
'Common ground'
He is expected to say: "A referendum with a binary Yes/No question was always bound to polarise opinion.
"But is there really no common ground between these two different stances? Is there no alternative around which a substantial majority of the Scottish people could coalesce?
"I would suggest that federalism within the UK, if it were workable and could be achieved, is a solution which could unite both unionists, and many nationalists, and provide a secure framework for the future."
Mr Fraser will argue that federalism for Scotland, Wales and Northern Ireland would be "comparatively straightforward" as the three nations have devolved administrations.
He will call for devolution to English regions, giving the example of the creation of the London Assembly and an elected mayor for the city.
Mr Fraser's comments go further than his party's devolution proposals, which would give the Scottish Parliament additional responsibility over VAT, income tax and welfare if voters reject independence in the referendum in September.
The option of federalism or further devolution will not be put to referendum voters, who will be asked the Yes/No question: "Should Scotland be an independent country?"
'Full powers'
Mr McMillan, from the SNP, said: "The 'No' campaign parties accepting that Scotland needs more powers is galvanising the 'Yes' vote.
"Scotland needs the full economic and welfare powers of independence, which only a 'Yes' vote can deliver, and barely a third of people trust Westminster to deliver anything. That is why a 'Yes' vote is so important."
He added: "In an independent Scotland we will get the government we vote for every time, instead of Tory governments we reject - as well as saving taxpayers some £50m per year by getting rid of the Westminster tier in Scotland."