First Veterans Commissioner for Scotland appointed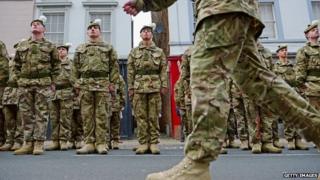 Scotland's first Veteran's Commissioner has been appointed to provide greater support for Armed Forces personnel.
Former Navy officer Eric Fraser will take on the role later this summer.
The Scottish government announced plans for the post, to champion the interest of ex-service men and women, earlier this year.
First Minister Alex Salmond confirmed the appointment when he attended the Armed Forces Day event in Stirling.
Mr Fraser, a former senior Navy officer, will work with charities, local authorities and health boards on veterans' issues and help shape future policy developments.
'Breadth of experience'
A graduate of Edinburgh University, Mr Fraser joined the Navy in 1976 and during a 37-year career served during the Falklands conflict, the Balkans war and patrolled drug smuggling around the Caribbean.
His final position before retiring from the Navy at the start of this year was as the UK Naval Attache in the British Embassy in Washington DC.
He will take up his role as Scottish Veterans Commissioner in August, in a three-year appointment.
There are an estimated 400,000 ex-servicemen and women living in Scotland.
Mr Salmond said: "Eric Fraser served for 37 years in a wide range of appointments, both at sea and ashore, from the Falklands to the Adriatic. As well as a great breadth of experience in strategic leadership roles, he has demonstrated clear empathy, commitment and direct experience of working with individuals and families within his command.
"The appointment of a Scottish Veterans Commissioner will complement the fantastic work our partners and stakeholders are already doing to care for our veterans, and I look forward to meeting some of them at the Veterans Village during Armed Forces Day in Stirling."
Col Martin Gibson, executive chairman of Veterans Scotland said: "We very much look forward to working with the commissioner in further enhancing communication on veterans' issues within the public sector.
"Our 400,000 veterans, who served in the UK Armed Forces to ensure we all continue to enjoy our freedom today, will welcome this announcement."