Consultation on fatal accident inquiries launched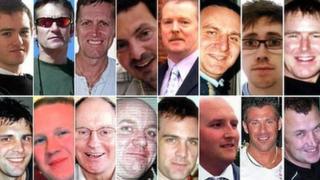 A consultation on plans to improve the fatal accident inquiry system has been announced by the Scottish government.
The consultation follows concerns about the length of time between a death occurring and the start of an inquiry.
The system was criticised over the delay between a fatal North Sea Super Puma helicopter crash in 2009 and the inquiry, which reported in March this year.
Ministers said they wanted to make the process "more efficient and robust".
The Scottish government said it aimed to implement the remaining recommendations of the 2009 Review of Fatal Accident Inquiry Legislation by Lord Cullen, to help modernise the way FAIs are handled in Scotland.
In March UK Aviation Minister Robert Goodwill said it was ''unacceptable'' that it had taken five years to publish the report into the Super Puma crash, which concluded that the accident might have been prevented.
He said part of the delay was due to considering possible prosecutions.
The consultation will also seek views on extending the categories of death for which FAIs are mandatory, allowing discretionary FAIs into the deaths of Scots abroad where the body is repatriated and options for where proceedings are held.
'More efficient'
Justice Secretary Kenny MacAskill said: "Modernising the process around fatal accident inquiries is something I gave a commitment on, and a bill will be introduced within the lifetime of this Parliament.
"Lord Cullen made 36 recommendations, some of these were the responsibility of the Crown Office and Procurator Fiscal Service.
"These have been implemented through the formation of the Scottish Fatalities Investigation Unit, however this consultation will build on these changes and give further consideration to other vital areas.
"This consultation is designed to ultimately develop a policy that streamlines the FAI process to ensure it is more efficient and robust."
The Scottish Fatalities Investigation Unit, set up to provide specialist advice for procurators fiscal in investigations into non-criminal deaths, began work in 2010.
Scottish Labour MSP Patricia Ferguson said: "While I am pleased that the Scottish government has finally decided to respond to the recommendations made by Lord Cullen in 2009, I am concerned that they still don't address all the outstanding issues.
"Tinkering at the edges of this legislation is not what is required.
"There needs to be a fundamental overhaul of the system if it is to deliver for bereaved families."
The consultation is open until 9 September.