Scottish independence: NHS Together to campaign for 'No'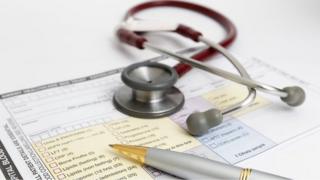 A group of health workers has been formed to campaign for a "No" vote in the Scottish independence referendum.
NHS Together - part of the Better Together campaign - believes remaining part of the UK would "secure the best future" for the NHS in Scotland.
Better Together has also published research by the Nuffield Trust which suggested health spending in Scotland is higher than elsewhere in the UK.
In May, pro-independence NHS workers formed the NHS For Yes organisation.
The NHS in Scotland is already fully devolved to the Scottish government.
But Better Together, which said 300 people had joined NHS Together, has argued that being part of the larger UK economy protects Scotland's public services from over reliance on volatile sources of tax revenue such as oil.
Scottish Labour MSP Jackie Baillie, a member of the Better Together board of directors, said: "Our NHS is the best example of why we can have the best of both worlds for Scotland.
"Decisions about our health service are taken here in Scotland, by the people who live and work here. That's as it should be.
"The investment needed to sustain our NHS, however, comes from taxpayers across the whole of the UK, not just in Scotland, which is why spending on health here is higher per head than the UK average. That's a powerful and positive case for Scotland staying in the UK."
'Westminster cuts'
Better Together published research by the Nuffield Trust charity which said health spending in Scotland is £2,115 per head, compared to £2,109 in Northern Ireland; £1,954 in Wales; and £1,912 in England.
Speaking at the launch of NHS For Yes in May, co-founder Dr Willie Wilson said independence offered a "unique chance" to secure Scotland's health service and protect it from future Westminster funding cuts, and the "damaging impact" of privatisation south of the border.
Dr Wilson, a former academic who now runs a small chain of community pharmacists, said: "We are fortunate that health is already devolved to the Scottish Parliament, and it is a shining example of self-government for Scotland demonstrably being far better than Westminster government. But devolution is not enough.
"Privatisation and commercialisation are now rampant in the health service south of the border. This means that competitive tendering is now compulsory and GPs are obliged to consider which hospital offers the best deal rather than which will give the best outcome for patients.
"In Scotland, we are not going down this road - but the more Westminster cuts Scotland's budget, and the more the state withdraws from direct NHS provision in England, the greater Scotland's budget will be squeezed as a consequence because of the way the Scottish Parliament is funded."