Scottish independence: Actor David Hayman claims referendum play ban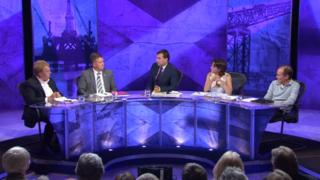 Actor David Hayman has claimed his play about Scottish independence has been banned in several areas of Scotland.
The Scots stage and screen star told the BBC several council-run theatres were not allowing his touring one-man production to be shown.
Mr Hayman, a supporter of Scottish independence, said he was being denied his "right of employment".
He said he was planning to take it round Scotland, before the 18 September independence referendum.
Mr Hayman, who made his comments on a TV debate programme, said he was currently rehearsing the show, ahead of its opening at the Edinburgh Fringe festival.
The actor said: "I'm touring Scotland with it right up until the 17th, the night before the referendum, hopefully to change minds in favour of 'Yes'."
Mr Hayman, who did not elaborate on which local authorities had denied him a performance, added: "Several councils who run their theatres have not allowed my play to be performed there.
"So, just because I exercise my right to speech, I'm denied my right of employment."
Business 'pressure'
Also appearing on the programme, which came from Portree on Skye, Labour MSP Jenny Marra claimed that businesses were "scared" to speak out if they did not support independence because of their customers, "but also that some SNP councillors might not pass their planning applications".
She added: "I think there's been a culture over the last few months during this independence debate, that if business or organisations within the country are not prepared to come out and support independence they are very much encouraged by the Scottish government, by the SNP, to take a position of neutrality."
But Scottish Transport Minister Keith Brown described Ms Marra's claims as "shocking" and asked her to produce evidence to back them up.
Answering claims that pro-independence parties were putting pressure on businesses ahead of the referendum, he said: "When you look at the reports of that, there is absolutely no evidence whatsoever.
"That's what's been found out when these allegations have been made."
Mr Brown added: "I've never put pressure on anybody, business or otherwise."
Businessman James Boyle, who was also a member of the debate panel and supports Scotland remaining in the Union, said nobody had pressured him.
'Better path'
He added: "Certainly what I do know is that a large number of businesses are sitting on their hands.
"They don't want to commit, although they believe that being in the United Kingdom is the better path, because they fear there may be recriminations after the event, even if we vote 'No'."