Scottish independence: Single energy market should continue, says report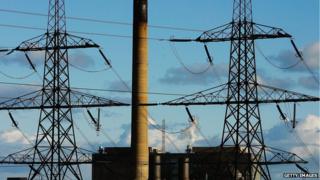 Single markets in electricity and gas covering the whole of Great Britain should continue if Scotland became independent, a report has said.
The report came from a commission which examined possible regulation of energy markets in an independent Scotland.
First Minister Alex Salmond said a single market was "in our common interest".
The UK government has said the rest of the UK would not need Scotland to secure its energy supply.
The report from the Expert Commission on Energy Regulation, which was set up by the Scottish government, said cross-border arrangements existed between other EU states, including the single electricity market across Northern Ireland and the Republic of Ireland.
The report argued that there was "overwhelming support for maintaining single markets in electricity and gas" across England, Scotland and Wales.
Commission chairman Robert Armour said: "In the event of independence there are undoubtedly issues that will have to be settled between the two administrations.
"We share a common integrated system and have a common interest in energy security.
"When those issues are settled all parties need to be confident in the robustness of the arrangements agreed.
"Looking to Europe and beyond we found working models of cross-border partnerships delivering jointly-regulated integrated markets that show single markets can work with goodwill and co-operation."
In April, UK Energy and Climate Change (DECC) Secretary Ed Davey claimed the rest of the UK would not have to "support an independent Scottish state's energy costs to ensure its own security of supply".
A DECC spokesperson said: "In the event of Scottish independence, the single market for electricity and gas just could not continue in its current form with Scottish consumers losing out on shared investment in infrastructure, transmission, and renewables.
"Our analysis shows that Scottish consumers are up to £189 better off in the UK as the broad shoulders of the Union allow us to spread energy costs more evenly."
Renewable energy
The commission, whose members included directors in the electricity and gas industry, regulators and academics, also examined fuel poverty, energy efficiency and the future of renewable sources of energy.
The report concluded that the roll-out of smart meters to better monitor domestic fuel consumption could help consumers use fuel more efficiently, and that a policy commitment to renewables made the industry attractive to investors.
The commission also called for a more radical approach to tackling fuel poverty, which Mr Armour branded an "intractable challenge".
Mr Salmond said: "The report rightly highlights that independence will open up new possibilities which could better address Scotland's energy needs, and recognises that it is in our common interest to share energy resources across our borders.
"Scotland is a resource rich country and it offers safe and secure supplies of electricity and gas, and can continue to assist the rest of the UK in meeting its legally-binding renewable energy targets.
"It's clear that a strategic energy partnership between our governments after independence represents the best outcome for all concerned and the commission has clearly identified examples from across Europe - in Ireland, Iberia and Scandinavia - which show that this can be done."
Low targets
Green Yes, the Scottish Green Party's campaign for a "Yes" vote in the independence referendum, welcomed the call for a single market and the report's emphasis on renewables.
Green MSP Alison Johnstone said: "Energy is an issue that all countries are facing up to, and with our renewables potential Scotland has a chance to generate not just what we need but also energy for export to enable our neighbours to meet their low carbon targets.
"Encouraging the trading of energy not just within these islands but across the North Sea makes sense, and I see a Scottish Parliament with responsibility for energy policy much more likely to prioritise these issues.
"By contrast Westminster is locking us in to new nuclear with its massive costs and toxic legacy, and a dash for fracked gas that risks our local environment and our carbon budget."
Scottish Conservative energy spokesman Murdo Fraser said: "The Scottish government has commissioned a report which has made a splendid argument for remaining as part of the UK."
He added: "If there were to be a 'Yes' vote in September, there are no guarantees the remaining UK would agree to this single market unless it was very much in their interests.
"And for it to be in their interests, it's reasonable to think the government of a separate Scotland would have to make some concessions.
"Those could include losing subsidy money, which in turn would run the risk of household energy bills getting higher."