Scottish independence: Scottish oil claims 'fantastical'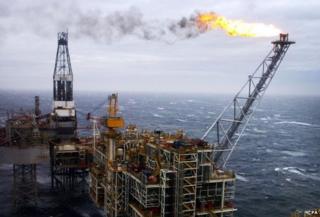 The chief secretary to the treasury has claimed the Scottish government is offering voters a "fantastical" future based on unrealistic oil forecasts.
Danny Alexander's comments, in a letter to First Minister Alex Salmond, came after forecasters cut North Sea oil income tax estimates.
Ahead of the independence referendum, Mr Alexander said Scottish ministers needed to put forward "facts".
The Scottish government said the North Sea would be a huge asset for decades.
Meanwhile, businessman Sir Ian Wood, who has carried out a review of the industry's future, said predicting what might happen was "not an exact science" and that there was optimism and pessimism on both sides of the independence debate.
In the letter to the first minister ahead of the 18 September vote on Scotland's future, Mr Alexander wrote: "With voting on the referendum just weeks away, you are still making plans based on the untold oil wealth beyond anything independent forecasters consider plausible.
"This stage in the referendum campaign should be about presenting the people of Scotland with the facts about what separation should mean.
"Instead, you persist in offering a fantastical picture of a separate Scotland's public finances."
Read more: North Sea oil: Facts and figures.
The letter came in the wake of the figures put forward by the Office for Budget Responsibility (OBR), which was set up by UK Chancellor George Osborne to provide forecasts of public finances.
The OBR cut its estimate of tax income from the North Sea between 2020 and 2041 by a quarter, to £40bn.
But Mr Salmond has dismissed the assessment as "stuff and nonsense".
Scottish ministers argued the OBR figures were based on a "very low estimate of future total production", which resulted in them being more pessimistic than other estimates - including those produced by industry body Oil and Gas UK.
The Holyrood government previously lowered its own estimates of the country's oil and gas tax revenues over the next five years, although its figures were still higher than those of the OBR.
Analysis: Tim Reid, BBC Scotland Westminster correspondent
It's yet another spat over oil forecasts - on which not even North Sea analysts can agree let alone politicians fighting over Scotland's future.
But that hasn't stopped the chief secretary writing to Mr Salmond suggesting the first minister is offering Scots a "fantastical" picture with "plans based on untold oil wealth beyond anything independent forecasters consider plausible".
Danny Alexander says the Scottish government's projections are unrealistic and unfair to the electorate.
It follows a further downgrading by the Office for Budget Responsibility on Thursday of expectations from the North Sea over the next 25 years.
But Mr Salmond says those forecasts are too pessimistic and his adviser points to suggestions by an academic who says it is the Treasury itself that had a missing mountain of black gold.
They put the likely total between £2.9bn and £7.8bn in 2016-17, which could be the first full year of independence under its timetable.
A spokesman for Scottish Energy Minister Fergus Ewing said the respected economist, Prof Sir Donald MacKay, had described Mr Alexander's oil figures as missing "a mountain of black gold".
"North Sea oil is a huge asset and will be for many decades to come - and the OBR's forecasts rest on estimates of future production which are well below those used by the industry, by leading experts and by the UK government," said the spokesman.
"Instead of acting as a frontman for a Tory chancellor and an apologist for Tory cuts, Danny Alexander should come clean with the people of Scotland on Westminster's plans to slash Scotland's cash in the event of a 'No' vote."
In the face of competing UK and Scottish government claims, Sir Ian Wood told the BBC's Good Morning Scotland programme: "I think its like many things in the campaign we're currently in the middle of - there's a fair degree optimism and a fair degree of pessimism on opposite sides."
He added: "It's absolutely not an exact science.
"It depends on the price of oil in the next 20-30 years, it depends on new technology being developed, it depends on the fiscal regime, it depends on the way the regulator behaves, it depends on our ability to attract inward investment into the UK and to Scotland against very significant investment."