Scottish independence: Scotland 'must choose head of state'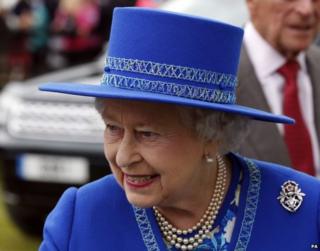 An independent Scotland must be allowed to choose its head of state, Scottish republicans have argued.
The Scottish government has pledged to keep the Queen as head of state in the event of a "Yes" vote in the 18 September referendum.
But the organisation Republic said the position was "untenable, undemocratic and lacking imagination".
The group is seeking to boost support for its argument during its annual conference on Saturday, in Edinburgh.
The Scottish government's position on the Queen has been set out in its draft constitution, which would be replaced with a longer-term one in the event of independence.
Republic chief executive Graham Smith argued that the document should be amended to allow the people of an independent Scotland to choose their own head of state.
"The draft constitution promises the people of Scotland will be sovereign, but that's an empty promise if the highest office in the land is out of reach of ordinary citizens," he said.
Republican support
The SNP is known for having members with republican views within its ranks, including current Scottish Community Safety Minister Roseanna Cunningham, whose long-time opposition to the monarchy previously earned her the nickname "Republican Rose".
Scottish First Minister Alex Salmond has said there was "no conflict" between having a powerful Scottish identity and respect for the Queen.
He has also argued that affection for the Queen in Scotland is "undiminished" and "strong".
The Republic conference will hear speeches by Glasgow University lecturer Duncan Ross, who is a former SNP national secretary, and newspaper columnist Ian Bell.