Scotland could be base for spaceport, says UK government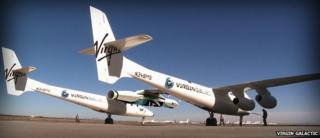 Scotland could host the UK's first dedicated base for spaceplanes, according to new government plans.
Ministers want to establish the UK spaceport by 2018 - the first of its kind outside of the US.
Eight aerodromes have been shortlisted and Scotland has six of the potential locations.
The Scottish government said only independence would lead to a greater development of the country's space industry.
For ministers and the space industry, the major interest in a UK spaceport is as a facility to enable satellite launches, but hopefully it would also become a centre for the new tourism initiatives from specialist operators such as Virgin Galactic and XCor.
Ahead of the announcement at this week's Farnborough Airshow, Chief Secretary to the Treasury Danny Alexander hinted that Scotland could become a key player in the UK government's future plans for developing commercial space travel.
He said: "I am delighted that the government is pushing forward with its ambitious plans to open a spaceport in the UK by 2018. Spaceports will be key to us opening up the final frontier of commercial space travel.
"Scotland has a proud association with space exploration. We celebrated Neil Armstrong's Scottish ancestry when he became the first man on the Moon and only last week an amazing Scottish company was responsible for building the UK Space Agency's first satellite.
"The UK space industry is one of our great success stories and I am sure there will be a role for Scotland to play in the future."
Earlier this week, UKube-1, a satellite built by Glasgow-based technology firm Clyde Space, successfully launched on a test flight from Kazakhstan.
It was the first ever spacecraft to be fully assembled in Scotland.
Figures from the government show that the space sector is one of the fastest growing industries in the UK as a whole.
The latest data indicates it is now generating more than £11bn for the economy every year, and employs 34,000 people - an increase of almost 9% on employment figures from 2011.
Ministers hope to capitalise on this growth and capture 10% of the global space market by 2030, which could mean the creation of 100,000 additional jobs.
Skilled jobs
Business Secretary Vince Cable said: "Our world-leading and ambitious space sector is thriving.
"This week we will announce the next steps for this country's space race, outlining how we will take one giant leap towards establishing the first British spaceport by 2018 - making the UK the place for space."
News of the plan was welcomed by the Scottish government, who also stressed that Scotland's growing space industry would be strengthened by a "Yes" vote on 18 September.
A spokeswomen said: "The space sector offers huge economic potential for Scottish companies, indeed the first Scottish satellite, UKube-1, built by Clyde Space in Glasgow, successfully launched on 8 July.
"It was a landmark occasion and a clear example of the scientific and engineering excellence being demonstrated by Scotland's entrepreneurial innovators.
"That same day a report published by Dr Malcolm Macdonald from Strathclyde Space Institute at Strathclyde University found that independence could be worth £15 million to £20 million a year in the medium term and as much as £100 million a year in the longer term to the space sector industry."
She added: "Scotland is proving that it has the expertise to attract and support such a specialised, global industry, and as such an independent Scotland will be an attractive option for spaceport pioneers."