Scottish independence: Celebrities in online referendum campaign videos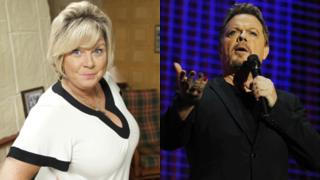 Campaigns in Scotland's independence debate have been endorsed by actors, comedians and pop stars in new videos.
Actors John Barrowman and Ross Kemp and comedian Eddie Izzard have appeared in an online campaign calling on Scotland to stay in the UK.
Meanwhile, actor Brian Cox, comedian Elaine C Smith and musician Ricky Ross have appeared in an online campaign video for Yes Scotland.
The independence referendum will take place on 18 September.
Voters will be asked the Yes/No question: "Should Scotland be an independent country?"
Campaigners behind the online film, Let's Stay Together, said the views of people in England, Wales and Northern Ireland have largely gone unheard in the debate and the video will "show Scotland that we do care".
Spokesman Andrew McGuinness said: "For everyone in the rest of the UK, just as for Scotland, the result of the referendum will have a fundamental impact on our identity, our culture and our future.
"It is for the people of Scotland to decide, but we want them to know the true feelings of the vast majority of their fellow citizens of the United Kingdom who want us to stay together."
---
Quiz time
Do you think you know what actors, singers, authors and comedians have been saying about the Scottish independence referendum? Try out our quiz and see how many questions you can get right.
---
The video also features campaigner and Labour peer Doreen Lawrence, the mother of murdered teenager Stephen Lawrence, One Foot in the Grave actor Richard Wilson and soap star Michelle Collins.
The video from the pro-independence campaign Yes Scotland features David Hayman, star of Shetland and Trial and Retribution, fellow actor Martin Compston and Stuart Braithwaite of the band Mogwai.
In the video, Mr Compston said independence would mean "Scottish people voting for the government - and getting the government - they choose".
Mr Hayman said: "We can have, for the first time in my lifetime, a truly representative democracy."
A number of celebrities have given their views on Scottish independence during the course of the referendum campaign.