Scottish independence: Darling says UK 'benefits' Scots tourism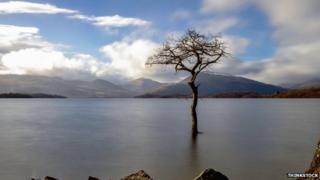 The UK brings benefits for Scotland's tourism industry, Better Together leader Alistair Darling has said.
Speaking as he launched the Tourism Together campaign group on a boat at Loch Lomond, he argued that tourism was boosted by the UK's "international profile".
He also said the pro-independence campaign was "running out of steam".
Yes Scotland chief executive Blair Jenkins said the the "No" campaign was making "bogus claims" on tourism.
'Unique brand'
Mr Darling said: "Scotland's tourism industry is a good example of why we can have the best of both worlds for Scotland. We have our own unique brand.
"Brand Scotland is known throughout the world. Brand Britain benefits us here in Scotland just as much as it does the people living elsewhere on our isles.
"The global recognition and international profile of the UK attracts people to the great tourist attractions of Scotland - from our cities like Glasgow and Edinburgh, to idyllic spots like Loch Lomond and Cairngorms.
"It's that combination, that best of both worlds, that makes Scotland's tourism industry the success it is."
Mr Darling also argued that independence would put that success at risk.
"It's the Nationalists' campaign that is running out of steam, running out of time and now running out of arguments," he claimed
'Been disproved'
However, pro-independence campaign group Yes Scotland branded the "No" campaign a "sinking, divided ship" and said the only way to guarantee Scotland gets all the powers it needs is with a "Yes" vote in September's referendum.
Chief executive Blair Jenkins said: "Scotland has a very powerful and flourishing tourism industry, worth £10bn, that we can expect to grow even more with the strengthening of Brand Scotland - and with the interest generated from tourists wanting to visit the world's newest, and one of the most welcoming countries.
"The 'No' campaign's bogus claims about tourism have already been disproved.
"In a poll earlier this year by a tourism consultancy, 85% said that independence would make no difference to Scottish tourism, and 43% of those who thought it would make a difference said independence would make them want to visit Scotland 'even more'."