Scottish independence: Labour makes Holyrood powers pledge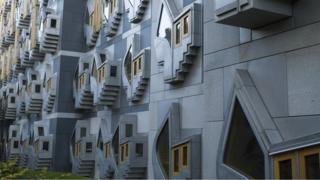 Labour has formally pledged to include further devolved powers for the Scottish Parliament in its manifesto for the next UK general election.
The party's National Policy Forum (NPF) said it would include a new Scotland Act in its first Queen's Speech if it won the 2015 election.
This would see new powers over tax, jobs and welfare passed to Holyrood, it said.
The SNP said Labour's proposals were "as weak as water".
The NPF, which was meeting in Milton Keynes over the weekend, voted to implement in full the recommendations made by Scottish Labour's Devolution Commission if it wins the general election.
Among the measures it said would be included were:
The ability to set Scottish Progressive Rates of Income Tax, in addition to the powers over income tax that will be introduced in 2016
The devolution of housing benefit to the Scottish Parliament
Devolution of the work programme, with more control for Scottish local authorities
The text that was passed by the NPF said: "We will introduce a new Scotland Act in our first Queen's Speech. This will include wide-ranging new powers for the Scottish Parliament over income tax, housing benefit and the work programme.
"This will include the ability to introduce Scottish Progressive Rates of Income Tax which will allow the Scottish Parliament to increase the rates of tax in the higher and additional bands should it choose to do so.
"Together with powers over the implementation of health and safety regulations, employment tribunals and the transfer of powers to Scotland's island communities, this is a significant package of reforms which will enhance devolution for the future."
Other policies endorsed by the forum, which will form Labour's platform for the general election, included an energy price freeze, a jobs guarantee for young people funded by a tax on bankers' bonuses and powers to enable public sector operators to compete for rail franchises.
Labour's Shadow Scottish Secretary Margaret Curran said the move meant more powers for the Scottish Parliament were "guaranteed".
She added: "This decision today means that Labour's commitment to pass powers over tax, jobs and welfare to the parliament will be included in our manifesto for the 2015 election and a new Scotland Act will be in Labour's first Queen's Speech.
"And I want to give a personal guarantee that if I am Secretary of State for Scotland next year, getting this legislation through parliament will be my top priority from day one of the next Labour government."
But SNP MSP Joan McAlpine said only a vote for independence in September's referendum would give Scotland full powers over areas such as tax and welfare.
She said: "Labour's Devolution Commission is as weak as water and fools nobody. Labour know this too - it disappeared almost as soon it was published.
"The Scottish Social Attitudes survey shows that 63% people in Scotland want full powers over tax and welfare - what Labour is talking about is light years from this, and it isn't something the Westminster system has ever shown any interest in delivering.
"The only way to complete the powers of the Scottish Parliament, and create the fairer society and more prosperous economy we all want to see, is with a Yes vote for an independent Scotland in September."
The Conservatives and Liberal Democrats have also unveiled proposals for devolving further powers to Edinburgh in the event of a "No" vote in the referendum.