Scottish independence: Sturgeon renews plea to Labour voters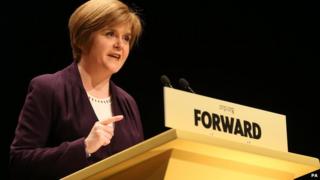 Labour voters should back independence to build a more equal Scotland, Deputy First Minister Nicola Sturgeon has said.
Ms Sturgeon renewed a plea to Labour voters that she made previously at the SNP conference in April.
She said many Labour supporters were already planning to vote "Yes" to independence.
Scottish Labour said the pro-independence campaign was getting "increasingly desperate".
Ms Sturgeon said a 'Yes' vote in September's independence referendum would be the "the chance of a lifetime for Labour voters to reclaim their politics and their party - and put Scotland on a path towards the goals and ambitions they support".
She added: "Instead of seeing up to 100,000 more children pushed into poverty because of Westminster austerity, we can get rid of Trident nuclear weapons and transform childcare to benefit 240,000 children.
"I have canvassed many Labour voters in many elections, and failed to persuade many of them to vote SNP.
"But I have yet to meet a Labour voter who puts bombs before bairns, which is one reason why I have spoken to so many in this referendum campaign who are voting 'Yes'."
She added: "For Labour voters seeking a fairer and more equal country, a 'Yes' vote offers the only real opportunity of making that a reality."
The deputy first minister has reached out to Labour supporters previously, including in her speech to the SNP conference in April.
Following that speech, BBC Scotland political editor Brian Taylor wrote that the move was a strategic one because "Labour inclined voters will decide the referendum".
Ms Sturgeon's latest call came as seven of the central figures from the Upper Clyde Shipbuilders (UCS) work-in wrote an open letter to the Daily Record newspaper in which they outlined their reasons for supporting independence.
The industrial action in 1971 succeeded in forcing Edward Heath's Conservative government to back down on a plan to shed 6,000 of the 8,500 jobs at the Clyde shipyards.
It was led by union official Jimmy Reid, who also backed independence before his death in 2010.
In their letter, the former UCS workers wrote: "The UK government is attempting to portray itself as the protector of shipbuilding in Scotland, but nothing could be further from the truth.
"Despite the efforts of the trade union movement, shipbuilding has been neglected by Westminster governments, and there is a stronger, brighter future for our shipbuilding industry in an independent Scotland."
The letter was signed by David Torrance, Linda Hamill, Betty Kennedy, Jimmy Cloughley, Ronnie Leighton, Tam Brotherston and John Gibb.
The nationalists have also unveiled two former Labour government ministers - Peter Kilfoyle and Leslie Huckfield - as supporters of independence in recent weeks.
However, Labour MSP Drew Smith dismissed Ms Sturgeon's comments.
'Standing together'
"Nicola Sturgeon has spent her life campaigning against the Labour Party," he said.
"But her campaign is becoming increasingly desperate, no doubt because so many previous SNP voters aren't buying the separation which Nicola Sturgeon believes in above all else.
"The SNP will say anything to get over the line in September, but I believe Scotland will see through the empty promises and unfunded polices which the 'Yes' campaign is trying to sell."
Meanwhile, the son of the late Labour MP Tony Benn - who also played a key role in saving the Upper Clyde yards - has spoken about his father's opposition to independence.
Speaking ahead of a visit to Scotland on Monday, Labour MP Hilary Benn said: "The socialism my father campaigned for all his life was about solidarity. He was a passionate believer in standing together and supporting one another in struggle and difficulty, not pushing people apart.
"To him, independence would not further the beliefs he fought for. That's why he was clear that the Labour cause - and the socialist cause - was best served by staying together."