Gaza conflict: Scottish government promises £500,000 humanitarian aid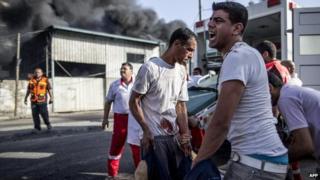 The Scottish Government is to provide £500,000 of aid funding to help the people of Gaza.
External affairs minister Humza Yousaf said the money would go towards providing water, food, shelter and medical assistance, .
The UK government is giving an extra £3m of aid for Gaza, taking its total to £10m.
More than 1,300 people, mostly civilians, have died since Israel began operations against Hamas militants.
Mr Yousaf said the international community should do more to stop the loss of more "innocent lives" in the conflict.
He added: "The escalating violence in Gaza has already caused far too many lives to be lost and people to be injured.
"The UN has called for an immediate and unconditional ceasefire, and it is crucial that this is delivered.
"Rocket attacks being fired by militants in Gaza is wrong, and must stop, however the Israeli response has been heavily disproportionate as demonstrated by the unacceptable and mounting loss of civilian life.
"There is also increasing evidence that the humanitarian situation is continuing to deteriorate and that is why the Scottish government is providing £500,000 funding to help the United Nations provide the water, food, shelter and medical assistance people in Gaza need."
The Scottish government has already offered medical treatment in the Scottish NHS for victims and said it would house refugees from Gaza.