Scottish independence: John Swinney says 'Yes' will boost Scots business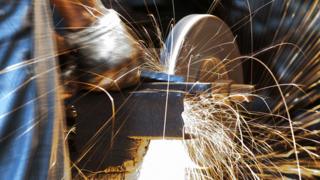 Scottish companies will be able to boost their presence on the world stage under independence, Scotland's finance secretary believes.
John Swinney said Scotland's ability to craft its own economic policy in the event of a referendum "Yes" vote would help employers across the nation.
His comments came ahead of a visit to Kelso in the Borders.
But pro-Union campaigners said Scottish ministers were failing to answer key business concerns over independence.
Mr Swinney is visiting the headquarters of Scotmas Group, a company specialising in water treatment products, which has manufacturing operations in Chile and Turkey.
He said the firm reflected the ability of Scottish business to operate internationally.
Mr Swinney added: "The success of Scotmas reflects Scotland's annual growth in manufactured exports - the fastest seen since 2008.
"This is good news for Scottish businesses and the wider Scottish economy.
"With a 'Yes' vote and the full powers of independence, we would be able to use the full range of economic levers at our disposal to enable Scottish companies to increase their global reach."
Business 'growth'
Scotmas Group owner and chairman Derek Cameron said Scottish business opportunities would "grow and grow" with a vote for independence on 18 September.
But shadow business minister Ian Murray said Mr Swinney was not listening to the concerns of businesses who were worried about issues like the currency arrangements for an independent Scotland and its status in the EU.
The Scottish Labour MP added: "Being part of the UK allows Scottish business to sell to a domestic market of 63 million people rather than just five million people, whilst our industries are promoted by an unmatched global network in our embassies around the world.
"Separation would be a step backwards."