Scottish independence: Sir George Mathewson attacks 'scaremongering'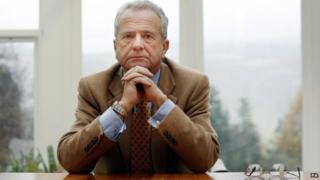 Former Royal Bank of Scotland chairman Sir George Mathewson has accused pro-Union campaigners of "scaremongering" over the impact of independence.
Writing for the Financial Times, the honorary vice-president of Yes Scotland said independence was "an opportunity, not a threat" for the financial sector.
Sir George also argued in favour of a currency union after a Yes vote.
However, the Better Together campaign ruled this out and called for details of a "plan B" on currency.
Last week, Royal Bank of Scotland reiterated that Scottish independence could have a "material adverse effect" on its business.
However, in his article Sir George argued that independence would bring "new opportunities" for Scotland's financial sector.
He wrote: "It is nonsense to argue that Scotland's banking sector would make independence impossible to achieve.
"Banks such as RBS and Lloyds Banking Group have strong Scottish connections but they can scarcely be described as Scottish banks.
"In reality they are run from London, and that is where they are regulated. The customers, assets and ownership are global, even if the holding company happens to be registered in Edinburgh."
Sir George said those who argued against a currency union "ignore the interconnected nature of our financial systems".
'Honest answers'
And he added: "As the debate over Scottish independence enters its final stage, careful analysis is giving the lie to the unionists' scaremongering about the consequences of independence.
"For Scotland's financial sector, this is an opportunity, not a threat."
However, a spokesperson for the pro-Union Better Together campaign said: "As an adviser to Yes Scotland, Sir George Mathewson should tell us what the nationalists' plan B for replacing the pound in a separate Scotland is.
"There would not be a currency union if we leave the UK. It wouldn't be good for Scotland and it wouldn't be good for the continuing UK.
"In tomorrow's TV debate Alex Salmond must give the Scottish people some honest answers about the consequences of separation for our currency."