Scottish Independence: Put your questions to Stewart Hosie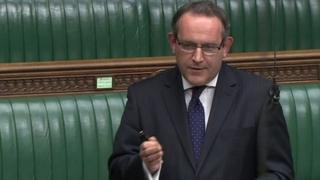 The latest in our series of independence referendum webcasts will see SNP MP Stewart Hosie answering your questions.
The Member of Parliament for Dundee East, is deputy leader and chief whip of the SNP group at Westminster.
He has previously been vocal on the issue of currency, calling the Westminster parties' refusal to consider a currency union with an independent Scotland a "grotesque bluff".
He also accused those opposed to Scottish independence of "panicking", and adopting "foolish" tactics.
Mr Hosie speaks for the party in the House of Commons on finance and treasury matters, and has criticised the UK government's "London-centric" approach.
He said: "At present our potential is limited by a straightjacket of Westminster public policy tailored to the short-term interests of London and the South-east of England."
He also argues that Scotland's financial services industry will benefit greatly from a "Yes" vote, building on Scotland's existing financial strength to create a "Frankfurt of the North".
If you have a question for Mr Hosie email newsonlinescotland@bbc.co.uk
Please put "Referendum questions" in the message field of your email.
Scotland's electorate will go to the polls on Thursday, 18 September, to vote in the independence referendum.
They will be asked the Yes/No question: "Should Scotland be an independent country?"
The interview with Mr Hosie will be published on BBC Scotland's news website.