Scottish independence: Celebrities call for Scots No vote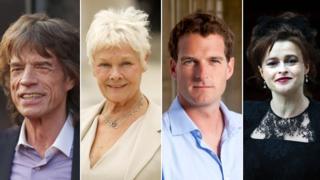 Sir Mick Jagger and Dame Judi Dench are among 200 public figures who have signed a letter urging Scotland to vote "No" in the independence referendum.
The list was set up by Let's Stay Together, a group of campaigners who do not get a vote.
The letter tells the voters of Scotland "how very much we value our bonds of citizenship with you".
Prominent supporters of independence include Sir Sean Connery, actor Brian Cox and novelist Irvine Welsh.
Let's Stay Together, which is registered with the Electoral Commission as a separate campaign from Better Together, wants people from around the UK to add their name to the list.
Historian Dan Snow presented the open letter at an event in London on Thursday. Other signatories include physicist Professor Stephen Hawking, actress Helena Bonham Carter and singer Sting.
The letter says: "The decision on whether to leave our shared country is, of course, absolutely yours alone. Nevertheless, that decision will have a huge effect on all of us in the rest of the United Kingdom.
"We want to let you know how very much we value our bonds of citizenship with you, and to express our hope that you will vote to renew them. What unites us is much greater than what divides us."
The group released a video in July which included contributions from Labour peer Baroness Doreen Lawrence and Paralympian and crossbench peer Baroness Tanni Grey-Thompson.
At the time the group stated its members believed that in the case against independence "the key missing message is a positive, emotional one".
A spokesman for Yes Scotland said: "It's great to know that Scotland has so many friends and admirers, and we know they will all continue to be our friends and admirers after we vote 'Yes' on September 18.
"We're sure that everyone who genuinely has Scotland's interests at heart will be delighted in future years to see a fairer and more prosperous Scotland emerge using the great opportunities of independence to grow our economy and make an even bigger contribution on the global stage."
---
A referendum on whether Scotland should become independent is to take place
People resident in Scotland will be able to take part in the vote, answering the "yes/no" question: "Should Scotland be an independent country?"
The referendum will take place on Thursday 18 September, 2014
Go to the BBC's Scotland Decides page for analysis, background and explainers on the independence debate.