'Anxiety mingled with hope'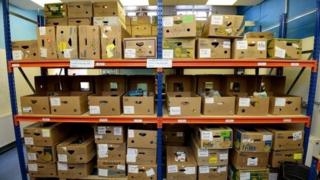 At the Maryhill Food Bank in Glasgow, they are used to planning ahead. On the wall of their limited space in an industrial estate is a notice, setting out intent.
It advises customers, volunteers and visitors that it will soon be time to think about gathering toys to distribute to needy kids at Christmas.
By then, of course, we will know the outcome of the referendum. Scotland will have said "Yes" or "No" to independence. Either way, in Maryhill, the families who visit the food bank will still need help. And, in a few months, their kids will be hoping for a few toys.
As I covered Nicola Sturgeon's visit to Maryhill today, I took the chance to chat with one or two of the volunteers. (The customers only resurfaced later - when the brief fuss was all over.)
'Best of times, worst of times'
Once again, I was struck by the resilience and the pragmatism of those who serve society on our behalf. They are grounded. Yes, there was some jargon about inter-agency action - but that's probably a factor of essential form-filling in the endless search for funding and support.
Mostly, though, they talked about what folk needed. Not just food. But help and advice to cope. With getting the kids a school placement, with appealing to social security, with debt, with deprivation.
I remember in the very earliest days of devolution that the then Scottish Executive announced a drive to cut homelessness. They soon found that providing the key to a home was not enough - if the new tenant was left frazzled and feckless by the challenge of surmounting daily life.
Ditto with food banks. They are the best of times, the worst of times. All being perfect, they should not exist. But, if they do, the volunteers know that it is right to make them community hubs, not just repositories for beans, cereal and shampoo.
Nicola Sturgeon argued that Scotland, under independence, would be able to order things better, to aim for greater fairness. Not instantly, not overnight. But steadily.
Yet what does that ambition mean, precisely? Does it mean, I asked, that the Scots are intuitively more eager to endorse equity - and that such a drive would be automatically released by independence? Ms Sturgeon said no: it was about economic and political choice, not instinct.
'Reshaped resources'
Did that mean, then, that she was advocating a system of higher taxation for the relatively wealthy in order to redistribute income?
She dissented. The SNP, she said, had not supported the abolition of the highest rate of income tax. But this was not the time to be setting out the detail of taxation policy more generally. That would be driven by prevailing circumstances.
Rather, she argued that resources would be reshaped if Scotland had full control of her own economy. She cited, as examples, the abandonment of Trident and the removal, from Scotland, of the cost of running the House of Lords: releasing money, she argued, for more productive use.
To the Borders, where the Scottish Secretary Alistair Carmichael was touring a business. What was his take? He complained at a lack of detail from Ms Sturgeon. But, in practice, he was eager to return to the controversy which has dominated debate for a week: that of the currency.
It was futile, he said, to talk of expenditure upon welfare or anything else in the absence of precision over the currency. Nicola Sturgeon and other supporters of independence say that it would suit both Scotland and the remainder of the UK to share the pound.
Back to the food bank. With the scrum departed to the next caravanserai, we are able to film, quietly, while a customer goes about the serious business of choosing from the food on display.
Outside, on the pavement, a young refugee mum, with two children, waits patiently. Earlier, I had heard her being advised, gently and supportively, to return at a particular time to get help. She is there, prompt to the second; her youngsters glancing at her, anxiety mingled with hope.