Scottish independence: Alex Salmond to clarify currency stance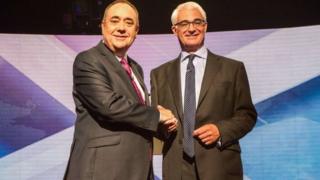 Alex Salmond has said he could have made his position on the currency of an independent Scotland clearer during a recent TV debate.
The first minister went head-to-head with Better Together leader Alistair Darling in the STV debate on 5 August.
Mr Darling repeatedly pressed Mr Salmond to set out his "plan B" on currency during the exchanges.
Mr Salmond has now conceded that he wished he had explained his position "in more detail".
Both sides claimed victory after the TV debate, but many pundits said they believed Mr Darling came out on top.
Speaking on a live phone-in programme on commercial radio on Sunday morning, Mr Salmond was asked if he was disappointed in his performance.
He said: "I wish I'd explained one aspect in more detail to people, and I'll definitely take the next opportunity to do that, and that was the question of the currency.
"Apart from that, the tone I wanted to adopt was the tone of conversation with people as opposed to shouting and waving."
The Scottish government has said Scotland will have a currency union with the rest of the UK in the event of independence.
The main UK parties have ruled that option out, and have repeatedly called on nationalists to outline their "plan B".
The radio phone-in saw Mr Darling take calls from listeners, followed by the first minister.
Mr Salmond was also asked if he had "got it wrong" in the STV debate by asking Mr Darling a series of questions about supposed 'scare stories' about driving on the right hand side of the road and a possible alien invasion.
'Next debate'
He told radio listeners: "No, I was trying to illustrate the extraordinary nonsense of the Project Fear campaign and then come to the essential point that Alistair couldn't answer, and he couldn't answer it again today on your programme 10 days later, he can't bring himself to say - even as David Cameron has done - that Scotland could be a prosperous independent country, he just cannot bring himself to say that.
"It'll be quite interesting if Alistair can get his head round saying it in the next debate."
Mr Salmond accused Westminster governments of systematically and deliberately underestimating the value of North Sea oil to limit support for the SNP.
And he pledged to fight "for Scotland's interests" if there is a "No" vote in September's referendum, but predicted: "We are going to win this".
Mr Darling was repeatedly asked during the phone-in if an independent Scotland could be a prosperous country.
He said: "I've always said Scotland could go it alone, however you'd have to cut your cloth according to your means.
"I think it would be less successful and we'd be less prosperous if we left the UK, if you look at countries like Denmark you pay a lot more in tax, the amount of money that people have got to spend is less, its energy prices are some of the most expensive in the world, so the idea that if you become a small country all your problems go away and there's lots of money around, it's just simply not true.
"I think our best chance of making sure that we can provide jobs in the future, decent paid jobs, is being part of the UK, being part of something bigger."
The second TV debate between Mr Salmond and Mr Darling will be screened on BBC One Scotland and across the rest of the UK on BBC Two from 20:30 on Monday 25 August.
The 90-minute debate will be staged in Kelvingrove Art Gallery and Museum in Glasgow in front of an audience of 200 people selected by polling and research consultancy, ComRes.