Scottish independence: Former Scottish Enterprise chiefs clash over currency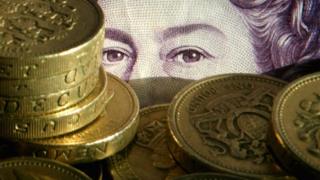 Two former heads of Scottish Enterprise have clashed over the currency of an independent Scotland.
Crawford Beveridge, who advises the Scottish government on fiscal policy, argued that sharing the pound with the rest of the UK would be best for both countries.
But at a Better Together event, Jack Perry, insisted that such a currency union "would not work".
Both sides have stepped up campaigning with just a month until the vote.
The independence referendum will take place on 18 September with voters asked the Yes/No question: "Should Scotland be an independent country?"
Fiscal Commission
Mr Perry was Scottish Enterprise's chief executive until 2009.
He appeared on an expert panel to discuss the currency question at an event organised by the pro-union campaign Better Together.
He believes that a formal pound-sharing deal would collapse because, in his view, the Scottish economy would diverge from the UK economy after independence.
Mr Perry has called for a Plan B from Scottish ministers.
The Scottish government's preference to keep using the pound is based on advice from its Fiscal Commission.
The commission is chaired by Mr Beveridge, who ran Scottish Enterprise in the 1990s.
In a lecture, he stressed that, in the commission's view, a currency union remains the best option for Scotland and the rest of the UK because it makes trade easier and avoids new transaction costs.
---
Daily question
As the people of Scotland weigh up how to vote in the independence referendum, they are asking questions on a range of topics from the economy to welfare.
In a series running up to polling day, BBC correspondents are looking at those major questions and by using statistics, analysis and expert views shining a light on some of the possible answers.
BBC Scotland's economic correspondent Colletta Smith has been looking in greater depth at the currency issue and finding out why it has emerged as a key debating point.
---