Scottish independence: Former European Court judge challenges student fee plan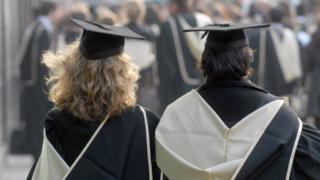 Charging fees to students from the rest of the UK to study in an independent Scotland would be "incompatible" with EU law, a former EU judge has claimed.
Prof Sir David Edward, a former European Court judge, has provided written legal advice to the pro-UK group Academics Together.
He cited EU rules preventing discrimination between member states.
The Scottish government argued the EU allowed for "exceptional circumstances" and the policy could continue.
The current Scottish policy of free tuition in higher education applies to students from Scotland and from most of the European Union, but students from England, Wales and Northern Ireland do pay.
The Scottish government has proposed to continue the policy if voters back independence in the 18 September referendum, and Scotland and the rest of the UK become separate EU member states.
Scottish ministers argue that this would be necessary to prevent students from the rest of the UK depriving Scottish students of places.
'Necessary measure'
The Scottish government's White Paper on Scotland's Future said: "We believe that in an independent Scotland it will be possible for an objective justification for this charging regime to be established.
"On that basis, we consider that retention of tuition fees for students, based on residence in the rest of the UK, is an appropriate and necessary measure to ensure Scottish domiciled students continue to have access to higher education opportunities."
In legal advice to the pro-Union campaign group, Academics Together, Sir David wrote that such discrimination could be justified under EU law if it "pursues a legitimate public purpose".
But he added that, with one exception, the European Court of Justice had ruled against member states who had tried to limit EU students from outside their borders.
"Belgium has tried a number of different ways (fees or other charges and quotas) to limit the numbers of 'incomers' while maintaining the principle of free access for Belgians.
"All have been declared unlawful by the European Court of Justice, subject to one very limited exception."
The exception "concerned a decree adopted by the government of the French Community of Belgium, which is responsible for universities in the French-speaking area. It imposed a quota on the number of students resident in any other member state who wished to study one of nine specified courses."
The European Court upheld the exception but cut to three the number of courses it applied to.
Sir David added: "All EU member states apart from Malta and Cyprus have 'shared land borders' and many have a 'common language' - notably Austria and Germany, and Belgium and France. They are also different in 'relative size'. 'Fee differentials' are common as between different member states.
"The position of Scotland cannot remotely be said to be 'unique and exceptional' in any of these respects."
He concluded: "It follows, in my opinion, that the policy as stated in the White Paper would be incompatible with EU law and could not survive challenge in the Court of Justice."
'Two options'
Labour MSP Kezia Dugdale, representing the Better Together campaign, said: "Now that yet another legal expert has dismantled the idea of charging students from elsewhere in the UK in a separate Scotland we need to know Plan B.
"How would the loss of £150m that we currently receive from students based elsewhere in the UK be made up?
"There appear to be only two options - introduce tuition fees for Scottish students too or allow students from elsewhere in the UK to study here for free, squeezing the number of places available for home based students. Alex Salmond must be honest about which it would be."
A Scottish government spokesman said: "The Scottish government will ensure that clear arrangements compliant with EU requirements are in place for the higher education sector to ensure a smooth transition in the event of a vote for independence.
"The requirements of the EU allow for objective justification, that is clear evidence of exceptional circumstances. This is explicitly acknowledged in Scotland's Future, and also made in independent legal advice sought by Universities Scotland.
"The Scottish government believes access to education should be based on the ability to learn not the ability to pay. The key reason we enabled universities to charge students from the rest of the UK tuition was to protect places for Scots-domiciled students.
"Had we not, the introduction of fees of up to £9,000 per year elsewhere in the UK could have dramatically reduced the available places for Scots-domiciled students."
Last year, lawyers advised Scottish universities that students from the rest of the UK could still be charged university fees in Scotland after independence.
In March this year Universities Scotland called for more details from the Scottish government on how the proposed policy would comply with EU law.