Scottish independence: Leaders disagree on future of immigration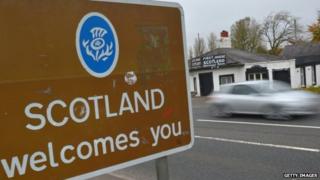 Party leaders have set out differing visions of Scotland's future immigration policy, ahead of the independence referendum.
First Minister Alex Salmond said he wanted a policy to attract skilled workers and keep Scots in the country.
Liberal Democrat leader Willie Rennie raised concerns about the Common Travel Area.
The Scottish government plans to continue membership of the passport-free travel area with the UK.
Opponents of independence have argued that Scotland would be required to pursue a similar immigration policy to the UK if it wanted to stay in the Common Travel Area.
The UK government has pledged to reduce net migration to under 100,000.
In its White Paper on independence, the Scottish government argued that Scotland's workforce was not projected to grow as rapidly as in the UK as whole.
"Scotland's population needs are therefore different to the rest of the UK and Scotland has a clear economic rationale for growing our population - in particular our working age population," it reads.
'Opportunities'
If Scots vote for independence in the referendum on 18 September, the Scottish government has proposed a points based system to attract skilled workers and a post-study work visa for students.
Mr Salmond told BBC One Scotland's Sunday Politics that growing the population included retaining Scots who currently leave for other parts of the UK or overseas.
"There are 30,000 younger people leave Scotland every year at the present moment, many of whom want to travel the world no doubt, but many many of whom have to go in search of lifetime and job opportunities," he said.
"The net migration figure takes account of the job opportunities that will be available to these 30,000 who we can ill afford to lose, as well as saying: look, it's a good thing if people of skill and ability want to come and stay and contribute to our country.
"But the difference between net migration and immigration is very important."
He said the proposed policy would not prevent an independent Scotland being part of the passport-free Common Travel Area, claiming the Republic of Ireland and the Isle of Man operated different immigration policies from the UK at present.
'Broadly similar'
Mr Rennie said: "You could see people coming to Scotland, with a more liberal approach that I wouldn't necessarily be against, and then travelling down south to take up work.
"And you can imagine that the rest of the United Kingdom might want to have a different immigration policy".
He said the Republic of Ireland and the Isle of Man had "broadly similar immigration policies" to the UK, "otherwise it would be a problem".
As part of the UK, he said, "we have broad economic shoulders with a working population to be able to support the ageing population".
In contrast Mr Salmond, he claimed, had "incoherent plans that would cause chaos".
Recent figures from the Office for National Statistics showed net migration into the UK increased by more than 38% to 243,000 in 2013-14, though the UK government claimed its migration target could still be achieved.