Scottish independence: Thousands in late rush to register to vote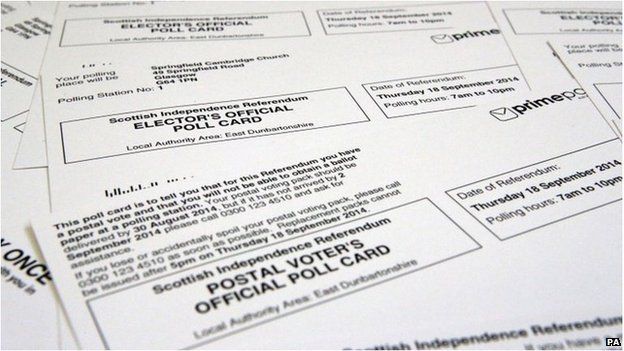 Thousands of people have registered to vote in Scotland in the past week.
Local registration centres have said in recent days they have received tens of thousands of applications.
Residents have until midnight on Tuesday to register for the 18 September referendum.
Figures obtained by Scotland 2014 show in the past seven days Glasgow received more than 9,000 applications, Renfrewshire 5,000, and Shetland and Orkney almost 1,000.
Edinburgh has received 30,000 in the past couple of months. Several other centres said they had "backlogs" but they would meet the deadline of processing them by 11 September.
Other areas, such as the Scottish Borders, Dundee, Highland, Angus, and Perth and Kinross said they have seen "unprecedented" numbers.
In most areas, registration staff worked through the weekend and until midnight on Monday and will be working until midnight on Tuesday/Wednesday to cope with demand.
Ensuring your vote counts
To vote in the referendum you must register by midnight 2 September, 2014.
You can download a form at www.aboutmyvote.co.uk. You will need to print the form, sign it and return it to you local electoral registration office.
If you are unsure if you are registered you can contact you local electoral registration office and they will tell you.
Register for a postal or proxy vote by 5pm on 3 September, 2014
The deadline for an emergency proxy is 5pm on 18 September, 2014
Make sure your postal vote arrives by 10pm on 18 September, 2014
Vote at polling places between 7am and 10pm on 18 September, 2014
BBC Scotland reporter Andrew Black takes you through how to register and cast your ballot in this interactive guide.
But a number of voters said they have received no response and no polling card - despite applying to register weeks ago.
Two such voters work at the BBC. Officials in Glasgow told one voter, who had already posted their form twice, they could not confirm if they had received it.
A spokeswoman for Glasgow City Council said: "The electoral registration deadline is 12 midnight on 2 September and we can guarantee that all forms will be processed before by Thursday 11 September."
As of 1 August, there were nearly 4.2 million people registered to vote and more than 680,000 with postal votes. Those figures are growing daily.
Mary Pitcaithly, chief counting officer for the Scottish independence referendum, said: "The referendum has prompted high levels of interest, with increasing numbers of people registering to vote and applying for postal votes.
"Electoral registration offices across Scotland are handling a high volume of inquiries and registrations. All offices have planned their processes and resources accordingly to handle the increase in inquiries as we approach the deadline for registration.
"Everyone who submits a valid application to the register by the deadline will be able to vote in the referendum.
"If anyone is particularly concerned about their form reaching the electoral registration office in time to meet the deadline, they are welcome to deliver it in person to their local electoral registration office."
Related Internet Links
The BBC is not responsible for the content of external sites.