Scottish independence: Referendum jobs campaign continues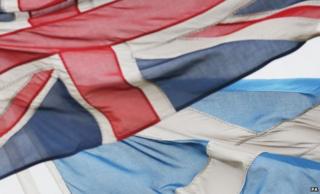 Both sides in the Scottish referendum debate are focusing on jobs, just a few weeks ahead of the vote on the nation's future.
First Minister Alex Salmond and shadow Scottish secretary Margaret Curran were concentrating on the drinks industry.
Campaigning has continued as polling suggested the pro-independence campaign may be closing the gap on its rivals.
It comes ahead of voters going to the polls in the 18 September Scottish independence referendum.
Tuesday is also the deadline for people in Scotland to register to vote.
Mr Salmond was setting out his vision of the gains of independence for the food and drink industry on a visit to Eden Mill distillery and brewery in Guardbridge, Fife.
"More and more people are waking up to the fact that Scotland has a strong and diverse economy on which we can build a more prosperous future with control of key economic levers," said the first minister.
"Scotland is currently in the international spotlight like never before, but the huge publicity generated by a 'Yes' vote - and the transition to independence - will be the opportunity of a lifetime for our food and drink sector to extend its global reach even further."
Ms Curran, who was visiting Glasgow's Tennent Caledonian Breweries, argued: "Around one million jobs in Scotland rely on companies based elsewhere in the UK and many more are with companies that rely on trade with England, Wales and Northern Ireland.
"Young people across Scotland can't afford to have opportunities cut off. We want a strong Scotland backed up by a strong United Kingdom. Being part of the UK means that we can share our resources across the country."
Meanwhile, the Yes Scotland campaign said support for independence had risen eight points in less than a month, pointing to a new YouGov poll indicating that, excluding "don't knows", 53% of those questioned planned to vote "No", while 47% would back "Yes".
---
Elsewhere in the campaign . . .
---
Yes Scotland chief executive Blair Jenkins, said: "This breakthrough poll shows that 'Yes' has the big momentum - it's an all-time high for 'Yes' support in a YouGov survey so far, and an eight-point swing from 'No' to 'Yes' in just three weeks.
"We only need another three-point swing to achieve a 'Yes' for Scotland on September 18."
However, Blair McDougall, campaign director of the pro-Union Better Together organisation, said: "The nationalists talk as if they are winning, but the truth is this is yet another poll showing the campaign for Scotland to stay in the UK in the lead.
"We speak for the majority of Scots, but this poll confirms that if people want Scotland to stay in the UK then they need to vote for it."
Mr McDougall added: "We need the silent majority who back a 'No' vote to do their bit, whether it's voting on the day, knocking on doors, making phone calls or speaking to friends and family, the silent majority should feel confident in speaking up."