Scottish independence: Nato members 'would welcome' Scotland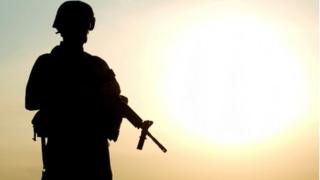 Nato would welcome an independent Scotland even if the country removed Trident, the former UK ambassador to the military alliance has said.
Dame Mariot Leslie was responding to a warning by Sir Richard Shirreff, a former Nato deputy supreme commander.
She revealed she will be voting "Yes" in the independence referendum.
The Better Together campaign said expelling the UK's nuclear deterrent would be seen as a "block" to Scotland's membership of Nato.
Sir Richard described the SNP's defence policy as "dangerous" and "amateurish" at the weekend, and said Scotland's future in Nato is "uncertain" if it leaves the UK and expels nuclear weapons from the Clyde.
But Dame Mariot, who was born in Edinburgh and retired as the UK's permanent representative to Nato earlier this year, said she drew "a different conclusion" from Sir Richard.
In a letter to the Scotsman newspaper, she wrote: "I am sure that it would be in Scotland's interest to join Nato and to continue to anchor our own defence in a wider alliance of Western democracies.
"But I am also in no doubt that the other 28 Nato allies would see it in their interests to welcome an independent Scotland into Nato.
"No ally would wish to interrupt the integrated Nato defence arrangements in the North Sea and North Atlantic - least of all at a time of heightened tension with Russia.
"A democratic, non-nuclear Scotland with strong military and technological traditions would fit naturally alongside similar Nato members in Northern Europe, and would be likely to join them - and the UK - in looking for multinational solutions to the pressures on their defence budgets."
'Security agencies'
Dame Mariot, who also formerly served as director-general for defence and intelligence at the Foreign Office. said any comparisons between Scotland and countries such as Ukraine and Georgia, who also wish to join Nato, were "out of place".
She added: "There is no 'queuing order' for membership of Nato. Each candidature, and its timing, is considered separately on its own merits by the Nato council."
Outlining her reasons for voting in favour of independence on 18 September, she said: "I am a democrat, and believe that the geography, economy, demography and politics of our country are so distinctive that they are best served by our own sovereign government.
"I nonetheless have affection for the UK, am proud to have been a British diplomat for more than three decades, and have enjoyed working with our highly professional armed forces and security agencies.
"Of course the closest and most important defence and security relationship for an independent Scotland would be with the United Kingdom.
"It's clear that as Scotland made the transition to independence there would be some tough negotiations over defence, nuclear and wider security questions, because there is a lot at stake on both sides. We are already witnessing some staking out of positions.
"But nothing in my long experience of British or international security make me think that either country need emerge as a less safe place when those negotiations were concluded."
Her comments were welcomed by Deputy First Minister Nicola Sturgeon, who said: "Dame Mariot is an enormously experienced diplomat who worked at the highest levels, and she speaks with authority on Scotland's potential and opportunities as an independent country.
"I am confident that having experts of her calibre publicly backing Yes will encourage many more undecided and No voters to decide in favour of Yes."
But speaking on behalf of the Better Together campaign, former Nato secretary-general George Robertson said: "Ms Leslie is entitled to her opinion but even she will see how difficult it would be to get 28 countries to agree to admitting a country determined to disarm another Nato state.
"The SNP is not just non-nuclear, it is anti-nuclear and no other Nato country takes that position. Expelling the UK deterrent - especially when President Putin is reminding the world about his - would be seen as a serious block to Scottish membership."