Scottish independence: Labour steps up referendum efforts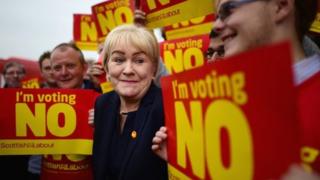 Labour politicians have stepped up their efforts to persuade the party's supporters to reject Scottish independence.
The party's Scottish leader Johann Lamont urged voters not to "take a punt" on independence.
And former Prime Minister Gordon Brown reiterated Labour's commitment to new powers for the Scottish Parliament.
But First Minister Alex Salmond said the referendum ground was shifting under Labour's feet.
Ms Lamont took the campaign for a "No" vote on 18 September to the heart of Scottish Deputy First Minister Nicola Sturgeon's Glasgow Southside constituency.
The Labour leader claimed that people there were set to vote by two to one in favour of Scotland staying in the UK.
YouGov research
Nationalist politicians have been trying to win over Labour supporters in the run-up to the referendum, with Ms Sturgeon saying a "Yes" vote could help revitalise their party, which has been out of power at Holyrood for more than seven years.
Ms Lamont acknowledged that some of those who voted Labour in the 2011 Scottish elections would be backing independence.
But she said more of those who supported the SNP in that election would be voting for Scotland to stay in the UK in less than two weeks.
Labour cited YouGov research as suggesting 20% of SNP supporters from the last Holyrood elections were set to vote "No" to independence, with this amounting to more than 180,000 people.
---
Elsewhere in the campaign . . .
Liberal Democrat councillor Drew Millar announces he will be voting "Yes" to Scottish independence, going against his party's stance. Mr Millar said: "I will be voting Yes because I believe Scotland deserves to get the government it votes for in order to ensure its future success. We can be a successful, independent country with the government the people of Scotland choose in place."
Former chief of M16 Sir John Scarlett writes in The Times that an independent Scotland's plan to have a single security and intelligence service would not offer the same level of protection and support being a part of the UK currently provides. Sir John said: "In my view, the Scottish Government proposals will not offer the level of protection and support currently provided by the highly-sophisticated British security and intelligence agencies."
---
That compares to more than 176,000 people who voted Labour in 2011 but who plan to vote "Yes" in the referendum, the party said.
Ms Lamont said: "We know that Labour voters and SNP voters, people across the country, are being asked to take a punt to vote 'Yes' and somehow everything will be OK, despite the fact that there will be a greater challenge on public services."
She insisted the SNP's landslide victory in the 2011 Holyrood elections was "achieved despite their policy of independence" as she said that those who had backed Alex Salmond's party for the first time then "are key to this referendum".
She added: "In Nicola Sturgeon's constituency in Glasgow Southside, we are speaking to Labour and SNP supporters, and are finding two 'No' voters for every 'Yes' voter."
Meanwhile, in a speech in London, Mr Brown said he would seek to spearhead efforts to secure rapid implementation of more powers for the Scottish Parliament in the event of a "No" vote.
He told an audience of activists and politicians at Westminster that he had asked Speaker John Bercow to allow him to lead a debate when the Commons resumes business in October to galvanise cross-party support for reforms.
All three main Westminster parties have published separate proposals for increasing the powers of the Scottish Parliament if there is a "No" vote.
---
ANALYSIS
By Brain Taylor, BBC Scotland political editor
Are you enthralled or enervated? Are you intrigued or underwhelmed? Perhaps above all, are you enthused by the prospect of independence - or apprehensive? Are you excited or anxious?
Incidentally, I encountered both emotions from a pair of thoughtful women observing the media scrum surrounding Labour's Johann Lamont in Govan today.
They worked locally and had just wandered over, as they freely confessed, "to have a wee nosey."
They told me they found the referendum campaign fascinating. Then they talked of their anxieties. In their case, pensions and immigration. They wanted one increased and one reduced. Guess which one.
They also longed for a single savant who could give them straightforward answers as to what would happen in the future. Precise, numerical answers.
To be fair, they readily agreed to my suggestion that such an endeavour was impossible in this troubled world.
"Still, no' long to go now", one opined as we parted. Indeed. So where are we heading?
Supporters of the Union are, understandably, emphasising doubt and anxiety, tending to express this as a claimed absence of answers to questions posed.
Independence campaigners say they are beginning to find that people on the doorsteps are, more and more, volunteering the verdict "exciting" when they think about the prospect on offer.
---
Mr Brown said: "This is not like 1979 when the then-Conservative government promised change and then denied us it. This is like 1997 when the Labour government came in and, within a year, had delivered its promise of a Scottish parliament."
A number of Labour figures, including Mr Brown, party leader Ed Miliband, shadow chancellor Ed Balls and former deputy leader John Prescott. will travel to Scotland next week to campaign against independence as the referendum grows closer.
Responding to Ms Lamont and Mr Brown's comments, Mr Salmond repeated his accusation that Labour was "in bed with the Tories".
He told BBC Scotland: "They seem to be fighting a party election campaign, and at some time it is going to dawn on them that this isn't actually about party politics.
"This is about the future of the country. This is a referendum that is beyond any individual, beyond any political party. It is about people having the ability to vote for the future of Scotland.
"If I was Johann Lamont I would have a wee look at the hundreds of thousands of people now in Scotland who normally vote Labour who have decided, in quite recent times over the past few weeks, that they are voting 'Yes'.
"That number is growing by the day, so if I was the Labour Party I would look at the ground shifting under their feet, as opposed to trying to pretend this is a Labour-SNP contest."