Scottish independence: Campaigns react to new poll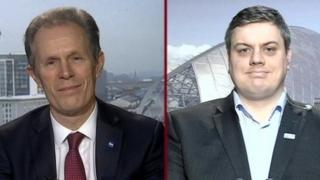 Both campaigns in the Scottish independence debate have claimed a new poll shows victory is within reach for them.
The Survation poll has suggested 47.6% of voters back "No", 42.4% "Yes", with 10% undecided.
Better Together's Blair McDougall said the campaign "will go right down to the wire, but it's one we will win".
Yes Scotland's Blair Jenkins said the poll "confirms we are in touching distance of success next Thursday".
On 18 September, voters in Scotland will answer the "Yes/No" question: "Should Scotland be an independent country?"
The poll, for the Daily Record, suggested a referendum result of 53% "No" to 47% "Yes", if undecided voters were removed.
It follows other recent polls suggesting the referendum vote was too close to call, including a You-Gov poll on 5 September that put the "Yes" campaign narrowly ahead.
'Biggest opportunity'
Mr Jenkins chief executive of the pro-independence campaign, said: "This puts 'Yes' support at its highest yet in a Survation poll when those still undecided are included, and at 47% excluding don't knows - which confirms we are in touching distance of success next Thursday, and will galvanise all those who are wanting and working for a 'Yes' to redouble their efforts.
"As we say in response to all the polls, we are working flat out to ensure that we achieve a 'Yes' vote, because it's the biggest opportunity the people of Scotland will ever have to build a fairer society and more prosperous economy.
"It is now abundantly clear that the 'No' campaign parties are offering nothing new in terms of more powers, which fall far short of what Scotland needs.
"A 'Yes' vote is Scotland's one opportunity to achieve job-creating powers and protect our NHS from the damaging effects of Westminster privatisation and cuts."
'Better way'
Mr McDougall said: "This fight for Scotland's future will go right down to the wire, but it's one we will win.
"Alex Salmond wants us to take so many huge risks - over our pound, pensions and NHS. The last few days have shown that these risks are real.
"Separation would cost jobs and push up costs for families in Scotland. This is too important for a protest vote. There would be no going back.
"We don't need to take on all these risks. There is a better way for Scotland.
"We can have more powers for Scotland over tax and welfare, and keep the strength, security and stability of being part of the larger UK.
"For the sake of future generations we should say 'No Thanks' to separation next week."