SNP MSP John Wilson quits party over Nato row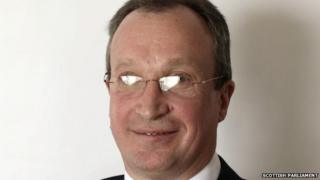 Nationalist MSP John Wilson is to quit the party whip in the Scottish Parliament, reducing the SNP's majority to one.
Mr Wilson was critical over the party's decision to endorse Scotland's membership of Nato, in the event of independence.
Following the referendum "No" vote, the Central Scotland list MSP chose to leave the SNP parliamentary group.
The SNP said it accepted Mr Wilson's decision and wished him well.
The row goes back to a move at the 2012 SNP conference which saw the party ditch its 30-year policy of opposition to defence alliance Nato.
Members passed a resolution from MP Angus Robertson saying an independent Scotland should become a member of the pro-nuclear weapons organisation.
But the decision ran into opposition, and resulted in the resignation of Highland MSPs John Finnie and Jean Urquhart from the SNP.
It is thought Mr Wilson will sit as an independent MSP.
Following his decision, an SNP spokesman said: "We wish Mr Wilson well and accept his decision - which of course comes at the same time as more than 26,000 people have joined the SNP in recent days, overtaking the Lib Dems UK-wide and over doubling our membership.
"The SNP continues to have a majority in the Scottish Parliament. The SNP democratically decided our position on Nato at party conference two years ago, and we remain absolutely committed to ridding Scotland of Trident."
The SNP now has 64 MSPs, out of 127 voting members.