Scottish referendum: SNP seeks 'home rule' within the UK, says Swinney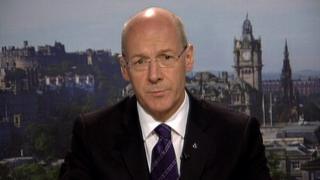 A form of "home rule" within the UK will be the SNP's aim in negotiations over more powers for Scotland, Finance Secretary John Swinney has said.
Mr Swinney told MSPs that Gordon Brown's prediction that there will be "a modern form of Scottish home rule" was "an important benchmark".
And he urged a commission on devolution to consider proposals which "go way beyond" those of the pro-Union parties.
Labour warned the SNP against trying to "pick apart" the referendum result.
Voters in Scotland rejected independence by 55% to 45% in last Thursday's referendum.
Devolution commission
Following the referendum result, Prime Minister David Cameron announced the appointment of Lord Smith of Kelvin to lead a commission tasked with delivering more powers to the Scottish Parliament.
A timetable for delivering new powers has been set out by former Prime Minister Gordon Brown.
Speaking in the Scottish Parliament, Mr Swinney said: "I think it's important to consider at the outset of that process just the issues that Lord Smith has got to resolve.
"The prime minister said during the referendum: 'If people vote No, business as usual is not on the ballot paper, the status quo is gone, the campaign has swept it away, there is no going back to things the way they were, a vote for No means real change'.
"Gordon Brown said: 'The plan for a stronger Scottish Parliament we seek agreement on is for nothing short of a modern form of Scottish home rule within the UK'."
Mr Swinney added: "Of course, those statements go way beyond the proposals and the propositions that were put forward by the unionist parties well in advance of the referendum.
"Indeed, Mr Brown's comments, about taking us within a year or two to a position of being as close to a federal state, is dramatically different to proposals that his own party put forward prior to the referendum.
"I think it sets an important benchmark of the type of level of agreement that has to be secured if there is to be a faithful commitment delivered to those who, in good faith, voted No on the expectation that additional significant powers were to be devolved to the Scottish Parliament."
'Final word'
Labour MSP Lewis Macdonald questioned the finance secretary's analysis of what motivated "No" voters.
"The point about popular sovereignty is that it is the final word," he said.
"Those who support the sovereignty of the people must not then pick apart the results to find a narrative that suits them better.
"Two million people voted for Scotland to stay in the union, and they did so because in their judgement that was the best direction for Scotland to take.
"They were not gulled or tricked into making that judgement, nor did they do so only in response to the issues that got the most attention in the short campaign."
Conservative MSP Gavin Brown said the Scottish government must deliver on its pledge to work constructively with Lord Smith.
"It is important that the Scottish government stands by what Mr Swinney said and actually don't snipe from the sidelines on the process and criticise it before it has begun," he said.
Earlier, Deputy First Minister Nicola Sturgeon, announcing her candidacy to replace Alex Salmond as SNP leader and first minister, said Scottish ministers "will be full, active, genuine and constructive participants in that process of change".
Cabinet committee
A Westminster Cabinet committee, promised in the wake of the Scottish referendum to oversee further devolution, also met on Wednesday.
Chief Secretary to the Treasury Danny Alexander, a member of the committee, said ministers were already working on plans and fully intend to keep to the timetable set out by Mr Brown.
Draft legislation would be in place by the next general election, he said, to be enacted by whoever formed the next UK government.
"We will absolutely deliver on the change that Scotland voted for last week," Mr Alexander insisted.
"Scotland voted for extra powers, delivered to the timetable which we set out. We will absolutely meet that timetable.
"Lord Smith's work is under way and today we will absolutely confirm that the government is working to deliver on that timetable.
"No ifs, no buts. It must happen and it will happen."