Lamont says she will keep Labour job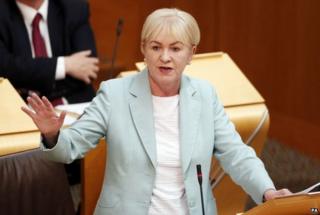 Johann Lamont has insisted she will remain Scottish Labour leader, despite claims her position was under threat.
She told parliament said she would be doing her job when Alex Salmond, who is standing down as first minister and SNP leader, was "long gone".
Her comments came during the first first minister's questions since the Scottish referendum "No" vote.
Mr Salmond said he had read claims that there were several "anointed successors" to Ms Lamont.
Attacking the Scottish government for its handling of the health service, Ms Lamont told parliament: "When the first minister is long gone, I will still be doing my job on behalf of the people of Scotland."
The independence referendum saw voters backed Scotland staying in the Union 55% to 45%, although a majority for independence was recorded in the traditional Labour stronghold of Glasgow.
Mr Salmond said he had "read in the papers that there seem to be a number of anointed successors for Johann Lamont".
The first minister told MSPs: "Johann Lamont says she's going to be retained in her current position - yes, I hope she continues as leader of the opposition in this parliament for some considerable time."