Humza Yousaf backs Keith Brown's bid for SNP deputy leader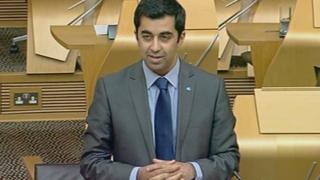 Keith Brown's bid to become deputy leader of the SNP has been backed by the Scottish government's minister for external affairs.
Humza Yousaf described Mr Brown as "trustworthy, charismatic and reliable" and said he was the "ideal candidate".
Mr Yousaf is seen as a rising star of the SNP, and had himself been tipped as a potential candidate.
Mr Brown and Stewart Hosie MP are so far the only two candidates to have put their names forward.
The party's current deputy leader, Nicola Sturgeon, is widely expected to succeed Alex Salmond as both leader of the SNP and first minister of Scotland.
Mr Yousaf, the Scottish government's youngest minister, introduced Mr Brown to a gathering of "Yes" activists at an event in Glasgow at the weekend, and urged them to support his bid.
He said: "Keith Brown is the ideal candidate for this deputy leader of the SNP. He's got a fine record in government and his organisational skills are second to none.
"He has shown he can take complex ministerial departments and get results from them - Housing, Transport, Schools, Apprenticeships and Veterans' Affairs have all benefited from his work and the growing membership of the SNP can benefit as well.
"He's trustworthy, charismatic and reliable; a great colleague to have and his experience and knowledge of Scottish politics mean that his advice is always worth taking."
Mr Brown, who is currently the Scottish transport secretary, welcomed Mr Yousaf's support, adding: "We've worked well together in the Scottish government and I know we both have the best interests of Scotland and the SNP at heart."
Later Mr Brown called for the party's newest members to be allowed to take part in selecting candidates for next year's general election.
More than 40,000 people have joined the SNP since the independence referendum.
Under current rules most would get a vote in the leadership election but there is a 13-month qualifying period before they get a say in choosing general election candidates.
Mr Brown's rival for the deputy leader post, Mr Hosie, is MP for Dundee East and the SNP's Treasury spokesman at Westminster.
Nominations for both leader and deputy leader remain open for three weeks. The winners will be decided by a ballot of all party members, with the results being announced at the party conference in November.