Lord Smith seeks views of groups on both sides of independence campaign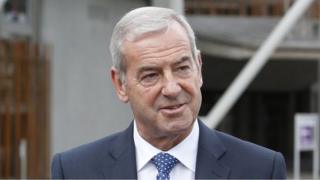 The man leading the commission on more devolved powers for Scotland has written to campaigners on both sides of the independence debate.
Lord Smith said he wanted submissions from new groups that came to the fore during the referendum campaign.
The five main political parties are already represented on the commission. Lord Smith also wants to hear from civic institutions and the public.
Groups have until 17:00 on Friday 31 October to submit their views.
Lord Smith has been asked to oversee the process of drawing up a "heads of agreement" on what further powers can be devolved to the Scottish parliament by the end of November.
In the letter he said he was simultaneously engaging with political parties, civic institutions and the public - but he also wanted to reach out to other groups formed in the course of the referendum campaign.
'Incredible' engagement
He wrote: "I am very aware that the referendum campaign saw a number of new groups come to the fore, representing a broad range of people and interests.
"In my view this was a very positive development, drawing in many individuals who had previously not been actively engaged in politics. There is no doubt that this played an important part in achieving the incredible levels of engagement that characterised the campaign.
"I am very keen to ensure that these groups, on the 'Yes' and 'No' sides, have an equal opportunity to have their voice heard in the process now under way. I would like to encourage you to submit your views on further powers for the Scottish Parliament, within the UK, by 5pm on Friday 31 October."
Political parties have each nominated two representatives to take part in cross-party talks on more powers for Holyrood.
Labour has put forward former Scottish leader and current finance spokesman Iain Gray to represent the party alongside a Scottish MP, expected to be confirmed as Gregg McClymont, MP for Cumbernauld, Kilsyth and Kirkintilloch East.
The SNP will be represented by Finance Secretary John Swinney and MSP Linda Fabiani; the Conservatives by MSP and former Scottish leader Annabel Goldie and academic Professor Adam Tomkins, and the Scottish Greens by co-leaders MSP Patrick Harvie and councillor Maggie Chapman.
The Liberal Democrats have appointed former Scottish Secretary Michael Moore and former Scottish leader and MSP Tavish Scott.