Ruth Davidson: Scottish Tories 'champions of silent majority'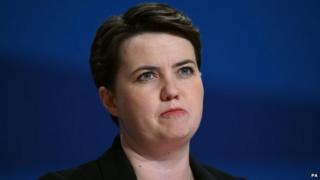 The Scottish Conservative leader has said the "toxic Tories" label has been exposed as a myth by the independence referendum.
Ruth Davidson said the debate had proved the Tories were instead "champions of the silent majority".
She said they offered sensible centre-ground policies in contrast to the increasingly left-wing SNP and Labour.
Ms Davidson was speaking at a fringe event at the Conservative conference in Birmingham.
She said that concerns were raised in some quarters from the outset of the referendum campaign about the involvement of the Tories.
"Siren voices repeated the lazy wisdom that Conservatives shouldn't be allowed anywhere near it. That our involvement would be unhelpful. That we were too 'toxic' for much of Scotland," she said
"We have blown that myth out of the water.
"The last two years have proved beyond any reasonable doubt that, far from being 'toxic', it was the Scottish Conservatives who spoke up and stood up for Scotland's silent majority."
'Centre ground'
She added: "It was us who made the confident, patriotic case for the UK.
"A Scotland that wants a truly United Kingdom - one which meets the ambitions of the people of Scotland.
"The Scotland that wants to see sensible centre-ground policies working for all Scots.
"Not like the SNP and Labour, fighting over exactly how left-wing it's possible to be in a modern country."
Ms Davidson predicted that the SNP's Nicola Sturgeon would become the "most left wing First Minister Scotland has ever known".
"With all these fired up new members, she'll be locking horns with Labour, and they'll be trying to outflank each other to demonstrate a kind of socialist machismo, elbowing each other aside to lay claim to the collectivist crown," she said.
"This gives us a huge opportunity. An opportunity to concentrate on the majority. A majority that wants sensible, centre ground policies."
She also called on the nationalists to participate "in good faith" in Lord Smith's commission on more powers for the Scottish parliament and not " try and push independence by stealth".
"That means ruling out so-called Devo Max. Such a plan - which would devolve everything bar foreign affairs and the Armed Forces - is a complete non-starter," she said.
On Sunday the Scottish Tory leader received a standing ovation when she addressed the main conference.
She said British politics must change to see off the SNP's push for a "neverendum".
She also endorsed having income tax paid in Scotland sent directly to the Scottish Parliament, allowing Holyrood to look "taxpayers in the eye" and being less dependent on the block grant.